Sprint 'Touch' photos leaked; Google works on Wallet 2.0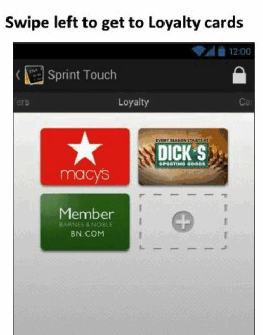 Fresh on the heels of last week's buzz about Sprint planning to launch its own mobile wallet, photos of the rumored Touch app have made their way to Android Central.
The photos show a layout similar to Google Wallet, with a PIN-protected login screen that leads to a main menu where you can store and access your payment and loyalty cards. Also included in the photos are the logos of numerous merchant partners, such as McDonald's, Starbucks, Target, Barnes and Noble, Macy's, Target and Best Buy. Not included are Sprint's financial partners, or any indication of where and when the app might launch.
Meanwhile, Google is reportedly working on Wallet 2.0, which will put more emphasis on cloud-based payments, offers, and promotions than its current iteration, according to The Verge.
The recent acquisition of payment technology company TxVia should theoretically help Google push adoption but, without any carriers on board, the attempt may be in vain. Google I/O will be taking place later this month, where we will surely hear more about plans for Wallet — whether or not Sprint will still on board by that time remains to be seen.
Read more here.