States prepare for Real ID in advance of pending driver license mandates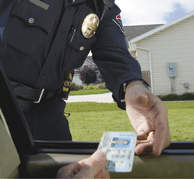 Central and distributed issuance options, facial recognition, and secure ID management has led 32 states to solutions from Digimarc
Andy Williams, Contributing Editor
With Real ID Act regulations lurking somewhere around the corner, secure ID management provider, Digimarc, is well-positioned to help states comply with the new requirements. The fact that the Oregon-based company is already in more than two-thirds of U.S. state driver license offices certainly gives it a leg up as well.
"We're in 32 U.S. driver license programs, five Canadian provinces and Mexico with its voter ID project," said Scott Carr, Digimarc's executive vice president.
Since the Real ID Act is supposed to standardize driver licenses from state to state, it's no surprise that Digimarc has been heavily involved in Washington, D.C. as well. "We've spent a lot of time working with our states in helping them understand the law and anticipating what's required," said Mr. Carr. "We've also been called on to testify to a U.S. Senate committee about border crossings and security."
The Real ID Act of 2005, which passed Congress in May of that year, prohibits federal agencies (and airlines) from accepting state-issued driver licenses or identification cards unless they meet minimum security requirements – such as including common machine-readable technology and certain anti-fraud security features. It also requires verification of information presented by the license applicant, who must also supply evidence that he is a citizen or a legal immigrant. The act requires standardized driver licenses by May 11, 2008.
One of Digimarc's assets is its facial recognition software which guards against a state issuing a duplicate license and also verifies the person renewing his license.
Many states are implementing software that concentrates on facial characteristics that can help them weed out duplicate–and possibly fraudulently produced–licenses. Regardless of what Real ID may mandate, states now are trying to better secure the license issuance process, said Mr. Carr.
Securing the license issuance process with facial recognition
When Digimarc sets up a facial recognition process in a driver license office, the company delivers "a high quality camera that makes for a better driver license and provides for more effective facial recognition. We'll deliver the computers and cameras and everything else that's needed. From an operator's perspective there is no impact."
This is how Digimarc's facial recognition software works: "First," explained Mr. Carr, "if I'm going back in to renew my driver license and you take my picture, the clerk can pull up my prior picture and do a one-to-one comparison to make sure I am me. This happens in the office and is just a way of confirming my identity."
Next up in the facial recognition process is to make sure that person doesn't have another driver license under another name. "Instead of checking against your previous photo, I check it against every face in my database," said Mr. Carr. That's more prevalent with states doing a central issuance, where the license is produced in a factory, then mailed to the recipient. "There's a two-day delay and I can use that time to do that check." About a dozen states centrally-issue their licenses and Digimarc handles all of them except New York.
This "one-to-many" check could also produce several matches. If that happens, "I probably want an investigator to make a judgment on whether a possible fraud is involved," said Mr. Carr. "Investigators love the software because they can do things now in six hours that used to take months."
Central vs. distributed issuance: Each poses unique challenges for Real ID
He cites Kansas as an example of the central issuance model. "I go through the enrollment process and give them all my (identity) information. They take my picture and when I leave the office, I have a temporary license. Overnight, they run a one-to-many comparison and an investigator gets a list of all potential fraud cases. The valid ones are sent to a secure factory, which we operate, the license is produced and mailed."
Added Mr. Carr: "It will be easier to implement a Real ID workflow in a central issuance model particularly if the Department of Homeland Security regulations require a whole host of data checks and other security procedures."
In the last five years, a number of states have moved towards a central issuance process, said Mr. Carr. A new system costs the state money, "but it reduces fraud so there's a quick pay back," he added.
The downside, obviously, is that it sacrifices convenience. Digimarc has five central issuance factories at undisclosed locations in North America. At these driver license factories, all employees have background checks and production processes are managed.
"It's hard to do that when you're issuing driver licenses over the counter," said Mr. Carr. "But a number of states continue to use over-the-counter." Digimarc is the only vendor, he added, that offers both over-the-counter and central issuance processes. "It is up to the customer to decide which workflow to choose and it is our job to make them successful."

Progress in advance of Read ID
Many states are "innovating in advance of Real ID. We're finding improvements in the security of the driver license itself such as extended data verification steps" where the information itself is checked to verify identity, added Mr. Carr.
So, states aren't slowing down in their attempts to harden driver license security. But they would like to know what will be required under Real ID, particularly since they must implement the act 15 months from now.
The National Council of State Legislatures even has a web site counting down, by second, the time left that states have to implement Real ID. The organization, in a survey of its members, estimated it would cost about $11 billion to meet Real ID regulations over the next five years. Most of that cost will come if states have to reissue every license. The survey was based on the law itself, not DHS regulations which haven't been issued yet.
Real ID remains controversial. Proposed legislation to repeal the Real ID Act remains live. Sen. Daniel Akaka, D-Hawaii, and Sen. John Sununu, R-New Hampshire, want more privacy protections and lower state costs. While the bill was introduced during last year's congressional term, it's likely it will again be taken up during the 110th Congress.
"We've been involved with regulations associated with driver licenses for many years. Our solutions have been designed to anticipate Real ID and to help our customers get compliant," said Mr. Carr.
But even before Real ID becomes a reality, states along the Canadian or Mexican borders, must deal with PASS (People Access Security Service). This proposed card is designed to meet the Western Hemisphere Travel Initiative (WHTI) requirements, which mandates that by Jan. 1, 2008, anyone entering the United States, including U.S. citizens, have travel documents that prove their identity and citizenship. Canadians claim the PASS card would severely hinder their country's commerce, particularly tourism, making it more difficult for Americans to visit Canada and vice versa.
"We are involved in the PASS card because a few states are trying to determine how to intersect Real ID with PASS," said Mr. Carr.
PASS? Real ID? Merging a more secure driver license with the two? It's enough to give state driver license administrators heartburn … and enough to keep Digimarc very, very busy.