Survey: Guests like NFC-enabled room access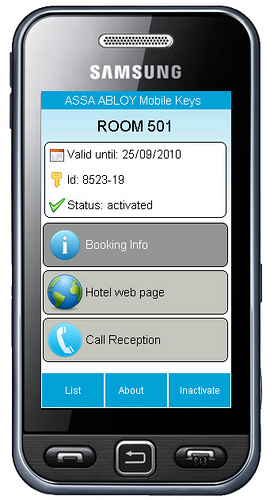 ASSA ABLOY, Nordic Choice Hotels, Giesecke & Devrient, TeliaSonera and VingCard Elsafe have completed a pilot project to replace hotel room keys with NFC-enabled mobile phones.
During an eight-month pilot at the Clarion Hotel Stockholm in Sweden, about 30 hotel loyalty guests checked in to the hotel via a mobile key application. After the check-in, the hotel key was sent directly to the mobile phone. Upon arrival the room could be directly accessed without the need to wait in line at the hotel reception. The checkout was also managed through the mobile key service.
A survey was conducted with the participating guests and it showed that not having to wait in line at the reception to check in and check out was highly appreciated by all participants. Almost all of the loyalty guests would use mobile keys for their hotel stays if NFC-compatible cell phones were available and their handset supported the service.
The hotel loyalty guests stayed at the hotel frequently during the pilot period which meant that they used the application repeatedly. This gave the guests the familiarity with the service needed to give valuable feedback on the user experience. When asked what other NFC applications they believed in, most of the guests replied paying for food, drink and hotel services.
A majority also believed in getting information about the hotel and the hotel services such as map, room service menus, the spa and gym and information about restaurants, bars and public transport available via the NFC service.
Mobile keys can enhance the guest experience and add value to hotel loyalty applications while being environmentally friendly too, said Marcus Majewski, general manager, Clarion Hotel Stockholm.