Swedish hotel adopts NFC key solution from OpenWays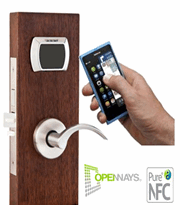 OpenWays has announced the launch of its "Mobile Key Dual with Pure NFC" hotel check-in and room access solution at Nordic Choice Hotels in Stockholm, Sweden.
Developed in partnership with Nokia and NXP, the solution enables hotel guests to use their mobile phones to check in remotely to their hotel and open the the door to their room via NFC.
According to OpenWays, Pure NFC leverages modern cryptology combined with OTP (One Time Password) technology. The solution also enables hotels to add NFC features while still being fully carrier and lock provider independent.
Prior to this commercial roll out, Nordic Choice had piloted a more limited NFC locking solution In 2010 that operated over a single cellular network. Since then the partners have settled on the Dual solution that works with all smart phones on any network, according to OpenWays.
Read more here.