Swedish telecos debut WyWallet mobile wallet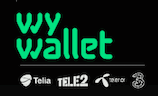 Sweden's four major telecos, Telia, Tele2, Telenor and 3 have officially launched their WyWallet mobile wallet service.
The first service of its kind in Sweden, WyWallet covers 97% of the country's mobile users, enabling them to perform person-to-person money transfers and make payments for SMS-services like public transport, ticketing and voting, as well as shop online and top up their prepaid cards.
WyWallet also supports NFC payments, which will be piloted in stores starting next week. According to the partners, more services and features are already lined up for WyWallet this fall.
The service is now available for Android, iPhone and Java devices, and will be added to Windows Phone this fall.
WyWallet was developed in partnership with Accumulate, who supplied the mobile technology and security behind the mobile wallet service via its Mobile Everywhere (ME) mobile financial services platform.