Sziget Festival goes cashless for 2011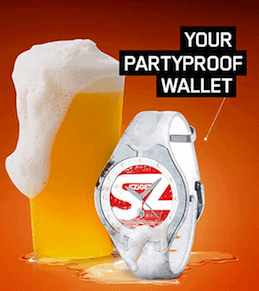 The Sziget Festival in Budapest, Hungary, one of Europe's largest music festivals, has introduced a cashless payment system using contactless payment cards and NFC technology.
Concertgoers are now be able to make tap-and-go payments within the venue using preloaded contactless "Festivalcards," operated by Metapay.
According to Sziget, some 1,200 payment terminals at the festival are equipped to handle contactless purchases. Users can add cash onto their cards at 34 Top Up Points situated throughout the venue.
In addition to the card, Sziget has also launched an NFC-equipped mobile phone from Vodafone and Metapay, enabling mobile payments at Metapay terminals.
Moreover, Sziget is also offering a Festival Watch for 30 EUR, which contains the same contactless chip and payment capabilities as the Festivalcard.
Another concept Sziget is introducing is the pay-by-minute ticket. Instead of buying a ticket for a whole day, fans pay for the amount of minutes they attended by checking into the venue with their cell phones and check out upon leaving. According to Sizget, this service is supported by all three mobile companies in Hungary.
Since its inception in 1993, the Sziget Festival has seen the likes of David Bowie, R.E.M., Radiohead and Sonic Youth grace the stage. Last year's attendance reached 382,000.
Headliners of this year's festival, which kicked off Monday and finishes on Sunday, include Prince, Flogging Molly, Gogol Bordello, Pulp and more.