Taiwanese will pay for their bus fares with their mobiles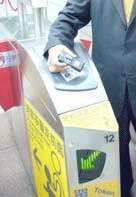 Vibo Telecom, one of the five operators of 3G mobile communication services in Taiwan, recently launched the V-Tone + EasyCard, a NFC (Near Field Communication) contactless payment service for transportation fares through 3G handsets. In early 2007, Vibo launched the V-Tone card, a thin-film USIM (Universal Subscriber Identity Module) for combined use with another USIM or SIM card issued by another mobile telecom carrier in Taiwan or other countries, allowing for users who travel frequently to easily switch between two different phone numbers and thereby minimize phone charges.
In early September, Vibo added the option of the Visa payWave NFC contactless credit-card payment service to the V-Tone card. Now with the EasyCard service, users will be able to pay for subway and bus fares, as well as parking fees at government-run parking lots through their handsets in the Taipei metropolitan area,according to DIGITIMES.