Tapit, Telestra launch NFC ad campaign in Australia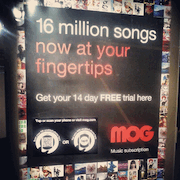 Tapit is partnering with Australian telecom Telstra to launch an NFC-based ad campaign that enables users to sign up for a free on-demand music trial by tapping their NFC phones against a poster, according to Deal Journal Australia.
Some 347 displays have been installed in Sydney and Melbourne, each enabling NFC phone users to access a free music streaming trial provided by MOG, a California-based liscensee of Telestra.
"It's the biggest outdoor NFC-enabled campaign in the world to date," commented Tapit CEO Jamie Conyngham.
Tapit, which was founded in March 2011, has previously worked with Coca Cola, Research in Motion, Johnson & Johnson, Unilever, David Jones and Vodafone in campaigns in Singapore and Australia, according to DJA. Thus far, the company has been operating on $900,000 (US $940,000 US) worth of funding and grants, but hopes to land $8,000,000 in Series A funding to expand its operations.
In addition to the MOG roll out, Tapit currently has projects scheduled in the UK, Portugal and Dubai, and has provided NFC stickers to 250 restaurants, cafes and bars around Sydney.
Read more here.