Testing the limits of new banking technology
U.S. Bank explores future of identity and payment cards with high tech pilots

With today's tech-happy consumers, providing them with the latest gadget or innovative service could lead to a happier bank customer. Banking today is about more than just parking your money in a brick and mortar facility or even with an online system. Customers, especially younger ones, expect innovation.
To that end, U.S. Bank is involved in several trials that if deemed viable, could find their way into customer's wallets, desktops and even mobile phones.
Dominic Venturo, U.S. Bank's chief innovation officer for the retail payments solution division, says the bank learned much from a recent six-month pilot involving near field communication with Spokane, Wash. residents as well as students from Gonzaga University.
"The intent was to run a public pilot with real consumers," says Venturo. "From our perspective that pilot was a success. We learned what we hoped to learn and we got good feedback from participants."
He says the bank "ultimately concluded that the hypothesis of consumers finding value was proved. Participants liked it because it was faster and better than cash."
Another lesson learned was "that people have a personal relationship with their mobile phone and strong opinions about that phone. We gave them one phone, a Nokia 6131, a flip phone, not a bar phone, not a smart phone. Because people have such strong preferences, they love the idea of payments but they want that capability on their own phone, not one provided for them," says Venturo. "What that says is there's a need for the handset community to have broad support for NFC for it to be widely accepted."
"The other thing we heard from users is that while there was good acceptance in the merchant community, participants would like to use the mobile device in more places. You need the contactless readers. That is a challenge," says Venturo. "We learned that we were on the right track, they liked the form factor, but we have a ways to go with merchant acceptance and handset adoption."
So U.S. Bank is looking at the next best thing, which turns out to be a contactless sticker that can be affixed to a cell phone. "We have an internal pilot involving U.S. Bank employees with a Visa debit card on a sticker," says Venturo. That pilot started late last year and will run for six months.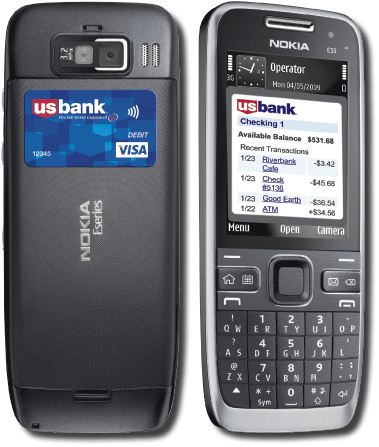 Who needs computer to access bank account?
"We've expanded our offering within the banking side for access with a mobile device. You can go to http://m.usbank.com using a Web browser on a cell phone to log in and check your balances or make transfers between accounts."
But for those phones not equipped with Web browsers, the bank is also looking at expanding its text alert program. "We've been doing alerts, like email alerts to your computer or mobile phone, for two years, but what we're now testing is the ability to set parameters about when you receive your messages," says Venturo. "You could get an alert at the time the card is swiped. The purpose of the pilot is to see if we can do this reliably and see how customers like the feature."
For example, one parameter a customer could set is to be notified of a sales amount when your card was used. "It augments the mobile alerts that we do on the online banking side," says Venturo. The message would include the location of the transaction, merchant name and amount of purchase.
Venturo says the feedback from this pilot has been interesting. "For instance, it detected fraud before anyone else has. So if you get an alert you don't recognize, you can look into it pretty quickly."
It can also be used for online purchases and as a reminder about recurring bills. "Basically anything you want to know about your account you can have it sent by email or SMS messaging. Plus you'll also have mobile access to your account."
Again, the feedback for this pilot has been positive, says Venturo, but there are a few glitches to be worked out. "A couple of things we've learned is that you don't always get text messages. The message doesn't always make it to your handset. Because we're talking about financial transactions, this is something we need to look at. Is it our issue? The carrier's issue? That's the kind of thing we're looking at," says Venturo.
"We've been moving in phases. We added SMS for all transaction types late last year. Whether we move to real time, I can't tell you."
And who needs a card or phone?
Another pilot involves a number of vending machines at U.S. Bank facilities. These machines were enabled for contactless payment, says Venturo, noting that the jury is still out on that trial.
The bank has also issued the Visa Micro Tag, a small contactless payment key fob. "It's a promotional item we did for 4,000 employees in the bank. It's basically a gift card and we allowed vending machines to take this as a means to test being able to actually create, distribute and load a keychain," says Venturo.
With all these pilots underway, it seems likely that the way customers interact with their financial institutions and the way they make payments will likely look very different in the coming years.