Tiny Jewel chip licensed by IER for ticket and label use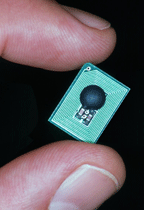 IER, supplier of rfid and contactless labels and devices to transit and other industries, will license the ultra-small Jewel chip from Innovision Research. The smallest ITSO-approved chip for contactless ticketing, Jewel has been heralded for its ability to reduce costs and make disposable tickets more affordable for transit operators.
IER signs licensing deal to use Innovision Research & Technology's Jewel® chip in mass transit smart ticketing applications
Cirencester, UK; 11 September 2006 IER, the leading designer and manufacturer of inlays (chip and antenna assemblies) for RFID labels has signed a licence deal to use Innovision Research & Technology's award winning Jewel chip. The Jewel technology – widely regarded as the world's smallest and lowest cost contactless ticketing chip – will be integrated within IER's new generation of RFID labels aimed specifically at mass transit smart ticketing applications.
IER, as a leading inlay manufacturer specialising in high volume HF and UHF smart labels, develops RFID solutions for logistic tracking applications (textiles, packaging, baggage), contactless ticketing, asset management, traceability of animals and secure document applications.
For public transportation applications, IER already offers a complete range of innovative solutions for selling, dispensing and reloading tickets and cards at desk counters as well as in self-service ticket vending machines for train, underground or tramway transport. By integrating the Jewel chips in its inlays, IER intends to develop a new generation of RFID labels designed specifically for mass transit smart ticketing applications.
"With our advanced production lines and prototyping line, we manufacture a wide range of inlays in various materials and for made-to-measure antennas. The Jewel chips will allow us to target the mass transportation market with UHF inlays and labels including ISO 14443A compatible chips at a very competitive price but without compromising on quality and reliability" says Eric Heurtier, IER's RFID labels sales manager.
About Jewel
Jewel is the world's lowest cost Radio Frequency Identification (RFID) silicon chip for mass transit applications, specifically designed to meet the demands of 21st Century travellers and transport operators. By integrating Jewel into its contactless ticketing systems IER will ensure interoperability between mass transit fare collection systems for the transportation market.
About IER
IER, a subsidiary of Bolloré Group (€4.9Bn), develops solutions to optimize operational efficiency and enhance security in flow processing of people, vehicles and goods in the transportation and logistics industries. IER is a world-leading designer and manufacturer of ticketing, self-service and boarding control solutions and access control equipment for the major transportation networks. More than one billion passengers use its equipment each year, in most of the airports and travel agency networks around the world.
IER has its own RFID tag production line, including pick-and-place equipment that connects the chip to its antenna on an inlay. The RFID manufacturing unit offers large production run capability and rigorous quality controls during the production process. Every inlay is electrically tested after the chip/antenna assembly, before packaging. Any faulty inlays are automatically marked so as to let the label manufacturer eliminate them during the integration process.
IER recently won the contract to manufacture the RFID inlays that will be integrated into the item labels to support Marks & Spencer's high volume trial extension of item level RFID. The trial will require almost 300 million RFID labels, and will reach the Marks & Spencer UK stores in Spring 2006.
Over the last few years, IER has developed excellent supply relationships with several leading ticket converters. Today they have an excellent track record of supplying reliable and low cost RFID tags in the highest volumes.
Having recently licenced the Innovision Jewel technology; that provides lower chip cost and additional product features compared to similar memory chips; IER is leveraging its strong global presence, to become a significant supplier of RFID inlays for the Limited Use tickets already being demanded by the Mass Transit industry around the world.
About Innovision Research & Technology
For more information, visit www.innovision-group.com.
Innovision Research & Technology plc is one of Europe's leading Radio Frequency Identification (RFID) IC Design and solutions provider. Focusing on RFID and ultra low-cost Integrated Circuit (IC) and electronic design, the company develops innovative technologies and technology applications for commercialisation and then licenses the technology on to its customers who incorporate it into their own products. Innovision R&T is also at the heart of the emerging Near Field Communication (NFC) market, designing and developing solutions for the mobile handset and consumer device sectors.
The company's work with customers includes pre-engineering studies, building of prototypes and complete product development through to production, including full custom silicon chip design.
Innovision R&T products include Jewel®, the world's smallest and lowest cost ITSO approved smart ticketing chip; and Io ® the world's smallest standards compatible near field RFID reader. Headquartered in the UK, the company was established in 1994 and is listed on the Alternative Investment Market (AIM) of the London Stock Exchange (ticker symbol: INN).
Near Field Communications News and Insight
Explore more developments dealing with the implementation of Near Field Communications, a short-range wireless technology that promises to revolutionize contactless identification, payment, access, and more.
Click to visit NFCNews
.