U.S. Bank launches wristband for contactless payments, health records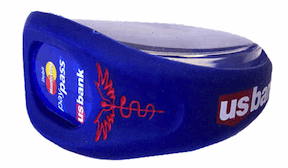 U.S. Bank has announced the launch of its new contactless VITAband, a light-weight wristband that combines contactless payment technology with emergency contact and medical information.
Equipped with MasterCard's PayPass technology, the VITAband enables customers to make purchases by simply tapping their wrist against any point of sale that accepts contactless payments. The device also provides a link to a customizable Emergency Response Profile (ERP) that provides medical professionals with quick access to critical medical information in the event of an emergency.
The new device, which was piloted by U.S. Bank employees in multiple states in the second quarter of 2011, was made in partnership with MasterCard Worldwide, Vita Products, Oberthur Technologies and FIS.
It features a contactless chip that can be preloaded with funds via an online user account, as well as a VITAnumber – a unique, eight digit numeric identifier that links the wearer to a customizable Emergency Response Profile that houses the individual's identity and critical medical information.
In addition to contactless payments, the VITAband enables customers to check their account balances, reload associated prepaid accounts and customize their Emergency Response Profiles, says U.S. Bank.
Beth Blaisdell, senior vice president for U.S. Bank Payment Services, comments: "VITAband is great for sports enthusiasts or people who are on-the-go and don't want the hassle of carrying cash and identification. It provides contactless payment functionality, along with access to emergency contact and medical information, all in one convenient wristband,"