VITAband keeps your medical information on your wrist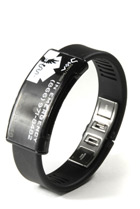 VITAband Inc. has developed a medical ID bracelet that aims to bring improvement to health information exchange and patient care.
It stores personal health information that enables first responders and medical professionals to gain access to important information in the event of an emergency. The device stores a person's identification, any relevant medical history and emergency contacts.
VITAband has partnered with Microsoft HealthVault, to enable users to collect and store their health information in one location. Users can create their own HealthVault account or use a preexisting on to import their Emergency Response Profile to the VITAband wristband. The Emergency Response Profile consists of patient's personal and medical information including emergency contacts, allergies, and current prescribed medications.
VITAband also doubles as a form of contactless payment. Using a prepaid contactless payment technology users simply wave their wrist at the point of sale to make a purchase.
There is a one-time fee, followed by an annual subscription. To find out more about VITAband click here