ZigBee standard is already creating smarter buildings but a link with ID systems may expand its wireless horizons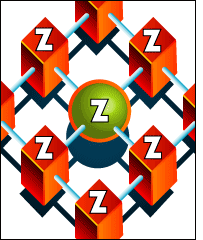 By Marisa Torrieri, Contributing Editor
You're on the eleventh floor of your hotel and the fire alarm sounds. Everybody freaks out. Is the fire as real as the alarm is loud? How on earth will you find the nearest exit? Why aren't there little lights to guide you? There is chaos and confusion – not just among the guests but among building managers dealing with multiple systems.
Such a scenario is typical with most commercial facilities, where numerous different electrical and wireless systems, from smoke detectors to lighting systems, don't work in sync. Enter ZigBee.
"Right now when an alarm goes off, you're clueless," says Bob Heile, chairman of the Zigbee Alliance and a business executive who's found himself in such situations a number of times in the past decade. "You don't know if it's a false alarm, where it's coming from. You can only hope there is PA system, and when it does come on, it' says 'go to the north stairwell.'"
ZigBee is a networking standard that allows a range of electrical systems to communicate. It was spawned from companies in the OEM, semiconductor, and wireless IP arenas (the main promoters include heavyweights like Ember, Freescale, Honeywell, Invensys, Mitsubishi, Motorola, Philips, and Samsung). In a nutshell, the proliferation of ZigBee will make it more likely that the array of now-unconnected electrical systems can work in tandem … so, for example, tomorrow's commercial buildings will have alarms that don't just make loud noises, but are interoperable with smoke-detector and lighting systems, It's young, but it's thriving, created to solve the problem of multiple, coexisting technology.
If a building is ZigBee-fied, "your infrastructure in the building now knows where the problem is, and then tells the lighting system to guide you to an exit," says Mr. Heile. "You won't know whether it's real or not without some human intervention, but you get some information, such as where to go. You are not going to walk into the middle of [the fire] unknowingly."
The ZigBee Alliance, the non-profit consortium of companies overseeing the standard, formed so microcontrollers or remote-sensing devices – and not just fire-alarm systems, but also thermostats and garage door organizers – could talk to each other all the time. Prior to Zigbee, says Mr. Heile, "there was no industry standard that deals with sensors and controls."
Where did the name come from? According to the Alliance, the ZigBee Principle is the communication system used by honeybees to communicate with each other … "whereby the bee dances in a zig-zag pattern, (sharing) information such as the location, distance, and direction of a newly discovered food source to her fellow colony members."
Armed with the final specification, which was ratified and released last December, ZigBee players are getting creative. They're putting out everything from smart, home aware heating systems to motion detectors. According to the Alliance, the technology is "well suited to a wide range of building automation, industrial, medical and residential control & monitoring applications, (such as) lighting controls, automatic meter reading, wireless smoke and CO detectors, HVAC control, heating control, home security, environmental controls, medical sensing and monitoring, universal remote control to a set-top box which includes home control, and industrial and building automation."
Implications for identity systems …
In essence ZigBee is a wireless communication protocol not unlike Wi-Fi™ or Bluetooth™. It fits a very specific niche that has been left unsupported by other protocols, specifically the low-power, mid-range, often intermittent communication between networks of sensors and electronic devices. The future implications for identity systems are significant, as they are for Wi-FI and Bluetooth.
A crossover application could begin with the ID system, for example, the initiation of a ZigBee-session to modify the environmental conditions within a room based on the identification credential presented to an access control reader. Or it could begin with the ZigBee network, for example, an alarm system at an individual's home triggering an alert to the individual's GSM mobile phone. The applications are only beginning to be realized.
How it's used and how it works
ZigBee-compliant products run off the IEEE 802.15.4 physical radio standard and operate in unlicensed bands worldwide at 2.4GHz (global), 915Mhz (Americas) and 868Mhz (Europe). Raw data throughput rates of 250Kbs can be achieved at 2.4GHz (16 channels), 40Kbs at 915Mhz (10 channels) and 20Kbs at 868Mhz (1 channel). Transmission distances range from 10 to 100 meters, depending on power output and environmental characteristics.
The most common applications of ZigBee tend to be those that require interoperability and RF performance characteristics of the IEEE 802.15.4 standard, including building automation controls (such as heating control and shading control), as well as industrial, medical and residential monitoring applications.
Key advantages of ZigBee include a low-duty cycle and a very long primary battery life. ZigBee runs on a direct-sequence, spread-spectrum frequency that allows devices to sleep without the requirement for close synchronization, according to the Alliance.
Because Zigbee does not require cabling that is prone to wear and tear, the products are cheaper in the long term, says David McCartney, a technical expert on ZigBee and VP of sales and marketing for Airbee Wireless, which designs software products so ZigBee-compliant hardware and radios talk to one another. A processing plant with one million square feet that relies on costly cabling for devices to communicate, for example, could potentially save millions by trashing the wires for the wireless.
"The cost to install cable and conduit in industrial plants today runs $150-$300 per foot," McCartney says. "Deployment of a ZigBee Node is around $50." An industrial plant, the size of several football fields, could have thousands of nodes, but the cost is still much lower, he said. And as the number of vendors working with the technology increases, consumers can expect the price to go down even further, Mr. Heile adds.

ZigBee in 2006 and beyond
The building with interoperable smoke detectors and lighting systems is just one example of what's available in today's marketplace. Over the last year, a host of new companies are developing and seeing interest in their ZigBee-complaint radio modules, hardware and software.
According to Mr. McCartney, four-year-old Airbee wireless, for example, is making rapid strides in the HVAC and hospital environments.
Airbee's partners are also seeing increased interest in their products. Radiocrafts, for example, is entertaining a growing number of clients who are interested in its ZigBee-complaint radio transmitters and receivers. They want to integrate ZigBee wireless technology into their products, mainly for applications in industrial sensor, monitoring and control networks, home and building automation systems. "Because they typically do not have or need any knowledge about RF design," says General Manager Peder Martin Evjen, "a modular solution is the fastest way to take benefit of this new technology and get a product the market."
But there are still some challenges in terms of cost that are preventing uptake in some markets. While it is more cost-efficient for a commercial entity to revamp existing wired systems with ZigBee products, it's still (considered by many to be too costly to) install ZigBee into the home, McCartney says, adding that a ZigBee-friendly wireless thermostat could start at $200.
---
Additional resources:
To visit the ZigBee Alliane on the web, click here.