Understanding RFID Part 6: RFID Readers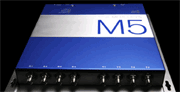 By Jerry Banks and Les G. Thompson, co-authors of RFID Applied
It is hard to label any component of an RFID system as being more critical than any of the others. In past articles we have discussed the RFID tag, as well as, the RFID antenna hardware. Both of these fundamental pieces are integral parts of a working and efficient RFID system. The underlying technology, manufacturing quality, and correct deployment of tags and antennas are all important links in the chain. Without any of these pieces, the entire solution will fail. The RFID reader is just as important as these other pieces and may be seen as one of the toughest components to design, manufacture, and deploy correctly. The challenge encountered with RFID readers is that a reader must implement two interfaces. The first is the interface with the RFID tags. The second is the interface with the business network.
There are several characteristics of an RFID reader that determine the types of tags with which it can communicate. The most fundamental characteristic is the frequency or frequencies at which the reader's radio communicates. As discussed in previous articles, readers and tags must communicate at the same frequency in order for them to couple.
Some RFID readers can communicate at more than one frequency. The corporation, IPICO, offers a dual-frequency RFID reader and tag product line. Supporting dual-frequency communications enables these types of readers to operate efficiently in changing environments. As discussed in the previous article, RF can be strongly influenced by its environment. Elements in the environment, such as liquids and different types of metals can contribute to the disruption of RF based communications. Certain frequencies are immune to some of these elements. For example, submarines communicate using a very low frequency carrier wave when they are submerged. Lower frequency transmissions can penetrate the water because of their longer wave lengths. RFID readers that support multiple frequencies may continue to communicate with a tag even when it is submerged in a glass of water because of the lower supported frequency. A reduction in data transmission speed is the price that is paid when a lower frequency is used.
Most RFID readers communicate exclusively with active tags or exclusively with passive tags. This means that an RFID reader that is manufactured to communicate with passive tags will not be able to communicate with active tags and vice versa. The second and third articles in this series explain the differences in these tags. It is sufficient to say that the basis for their communication methods is fundamentally different which prohibits a normal RFID reader from reading both types of tags. There may be RFID readers that can communicate with both, but, if they exist, they are not the norm.
When implementing a solution that uses passive RFID tags, a reader capable of interfacing with passive tags must be employed. There are many passive RFID readers available, some of them only read tags that are produced by the same manufacturer as the reader while others can read any tags that conform to a specified standard. For instance, ThingMagic's Mercury 5 reader is an EPC (Electronic Product Code) compliant reader. The Mercury 5 can communicate with any EPC Class 0, Class 1, Gen 2, or ISO 18000-6B/Ucode 1.19 RFID tag. In contrast to passive RFID standards, there has not been much activity with respect to active reader and tag protocols. Most manufactures of active RFID systems implement their own proprietary communication protocol.
A key feature of an RFID reader is the number of tags that it can sample in its tag population. Some readers may be able to sample 10 tags a second while others may be able to sample 100 tags a second. The number of tags sampled per second is usually influenced by the following items:
The anti-collision algorithm used by the tags
The processing capabilities of the reader which usually maps to the type and speed of processor in the reader
The amount of memory in the reader
The capabilities of the digital signal processor in the reader's radio
In most cases, the more powerful the reader is, the more tags it can sample. It is important to know the sampling characteristics of a reader. If the reader cannot keep up with the tag population, it may be necessary to obtain a more advanced reader or deploy more readers to ensure that all the tags are sampled.
The RFID reader must also communicate the tags it reads with an application that can make use of the data. The most common types of communications interfaces on this side of the reader are:
Serial – RS232 or RS422
IP (Ethernet) – TCP or UDP
USB
Each of these interfaces have their advantages and disadvantages. Some RFID readers support multiple interfaces. For example, the RFCode M200 433MHz reader support both an RS232 and Ethernet interface.
Several RFID reader manufacturers are now offering embedded versions of their readers. Embedded readers can be incorporated into another product through a direct hardware interface. These readers may be integrated directly with the product's motherboard or communication backplane. The form factor for an embedded reader is usually small and has little or no protective shielding except around the radio circuitry.
Once the reader is connected to the business application through a communication interface, the application must then configure, control, and collect data from the reader. RFID reader manufacturers offer management applications that can complete these tasks and/or they supply a software application development interface. The manufacturer may deliver example source code that can be used to develop a software product that can communicate with the reader or the manufacture may provide a pre-built set of software libraries that enable custom software applications to easily interface with their reader. Embedded readers may be delivered with sample reader hardware drivers for different operating systems such as Linux or Windows. When evaluating an RFID reader, it is important to take the software development interface into account. A well planned and documented development interface can save a great deal of time and money in the long run.
RFID readers can report different types of information. First, they must report their status and configuration. Enterprise installations should be able to monitor the status of the deployed readers. If a reader goes offline or fails for some reason, the RFID support team should be notified. Configuration information such as the internal software version number, current internal temperature, last reboot time, or IP address are a few example items that a reader might report.
Next, the reader should report information about the tags it is reading. The most basic data should include the tag's unique identifier. Additional data fields that could be reported by the reader may include the timestamp of when the tag was read, the signal strength at which the tag was read, and any state information that the tag reported such as temperature, pressure, or acceleration if applicable. The software development interface should handle the packaging and marshalling of this data from the reader to the application.
Some more advanced readers may report RFID events instead of each individual ping from a tag. RFID tag events could be defined as the distillation of RFID tag beacons into meaningful pieces of data. For example, when a tag enters or leaves the read range of the reader, or when the tag changes state in some way that should be reported to the application. In many cases, the individual reads of the tag are not useful, but the tag events are. An added benefit of only reporting tag events and not all beacons is that it reduces the network usage of the RFID system when the communication interface is Ethernet based and it reduces the amount of processing required by the application.
No RFID reader is perfect. Reader manufacturers find problems in their existing reader's firmware and make enhancements to their readers as the development moves forward. It is important that a business can easily take advantage of these bug fixes and enhancements as they are released by the manufacturer. It becomes extremely helpful to be able to upgrade readers remotely in an enterprise wide installation where tens to hundreds of readers may be employed. Readers that are Ethernet based may be able to be "flash" upgraded over the network while those connected directly to another computer may require more work on the part of the upgrade installer. It is a good idea to define an upgrade strategy and know what the options are for the readers that are being used by a corporation prior to their deployment.
The final consideration when finding a reader that fits a specific problem is the durability. Readers come in many different packaging options. Some readers are military grade while others are retail consumer grade. The connection points on the reader may also differ based on the intended use. Locking or sealed connectors may be required for solutions where extreme moisture or vibration may be encountered. Enclosures may be plastic or thick steel and may have exhaust fans or other cooling mechanisms. The mounting options may vary from rack to ceiling brackets. All of these options must be taken into consideration.
RFID readers come in many sizes, frequencies and with different data processing and reporting capabilities. Understanding these characteristics is important for designing an RFID solution that will function properly and be maintainable.
This is the sixth article in a series that explains the principles of RFID. It was created for RFIDNews by Jerry Banks, Tecnológico de Monterrey, Monterrey, Mexico and Les G. Thompson, Lost Recovery Network, Inc., Atlanta, Georgia. The authors are two of four co-authors of RFID Applied, John Wiley, 2007, ISBN-10 0471793655; ISBN-13 978-041793656.