US Airways becomes first to accept MasterCard PayPass for in-flight purchases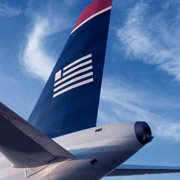 US Airways has become one of the world's first airlines to accept MasterCard PayPass enabled cards and devices for in-flight purchases.
US Airways passengers can now buy food, beverages and other services by simply tapping their MasterCard PayPass-enabled card and devices, helping to speed up transaction times and provide increased convenience.
Enabled by GuestLogix, a Toronto-based provider of retail technology solutions to passenger travel operators, US Airways now has the technology it needs to provide faster service for its MarketPlace onboard offerings of food, snacks, drinks, beer, wine, liquor, and more.
With MasterCard PayPass, US Airways passengers simply tap their PayPass-enabled MasterCard card or device on a PayPass-accepting reader. No PIN or signature is required. Passengers can travel virtually cash free, eliminating the hassle of carrying cash and without having to fumble through their wallet or purse for exact change.