U.S. transit agencies pursue a standard for transit fare collection through UTFS effort
Seeking a uniform transit fare standard–that's open source, no less–is a yeoman's job, but one that a task force of the American Public Transportation Association (APTA) has willingly undertaken. Someday, all transportation agencies may have the ability to have interoperable regional smart card systems. The future could be one in which a single smart card could be used in San Francisco, Washington, D.C., and an array of urban areas in between.
Appropriately named the Universal Transit Farecard Standards Task Force (UTFS) it is funded by the U.S. Department of Transportation and some APTA members, said UTFS Chairman Tom Parker, Bay Area Rapid Transit (BART), San Francisco, Calif.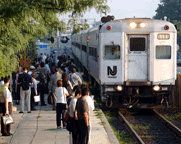 The two-year-old UTFS committee is an outgrowth of APTA's Rail CEOs committee made up of the executives of the country's 34-35 rail systems, said Tom Peacock, APTA's director of technical services and the organization's liaison with UTFS. "They were the ones who were frustrated because their staff kept coming to them complaining that if they wanted to make (fare card) changes, they were held hostage by intellectual properties," he said. So these CEOs "decided to tackle automated fare collection problems and that led to UTFS."
"We had all these multi-million dollar (smart card) systems, but there was no real standard," said Mr. Parker. "We were spending millions developing a system that could not speak to another system in the same region."
Greg Garback, a task force member from the Washington Metropolitan Area Transit Authority, and a special industry liaison to UTFS, agrees. In his UTFS update at the recent Smart Cards in Government Conference in Washington, D.C., he said, "this is a billion dollar thing. A system costs $100 million and with all the systems out there, it adds up quickly."
As one of its recent documents purports, "APTA and its members have accepted the challenge to place a greater focus upon up-to-date public transportation fare media research as we move into the 21st century."
Released earlier this year, APTA's "Trends in Electronic Fare Media Technology," is one of two documents UTFS has released thus far about fare standards. (The fare standards document is still a rough draft, the other, Business Issues, is in final draft and it is anticipated it will be released in June, 2004.)
The UTFS Task Force is made up of four committees:
Fare Media
The Fare Media Committee develops standards, guidelines, and education on fare media and revenue management security elements.
Financial Management
The Financial Management Committee provides guidance documents to address the business and technical issues surrounding interoperable fare payment systems including the use of a clearinghouse to facilitate shared payment processing between multiple agencies.
Operations
The Operations Committee aids in the development of a regional, interoperable payment system.
Special Industry Liaisons
The Special Industry Liaisons Committee is responsible for developing relationships and sharing information with other public and private entities to ensure that APTA's UTFS efforts are consistent with other standards efforts in applicable industries and vertical markets.
"We have tried to partner with the industry in understanding the vendor issues," said Mr. Parker in explaining the UTFS organizational structure. "All of these committees are supported by both agency and vendor personnel who have come together to provide best practices and standards that will allow us to achieve interoperability."
At a National Institute of Standards and Technology (NIST) workshop on Storage and Processor Card-based Technologies in Gaithersburg, Md., last July, Mr. Parker, laid out the task force objectives:
Develop a universal fare card standard.
Determine the need for a national standard.
Outline the process for migrating revenue systems to new technologies.
Identify revenue systems hardware and software capabilities.
Define the role and participation of financial institutions.
Help agencies understand and navigate the business issues affecting revenue systems.
Help agencies determine cash flow and revenue benefit.
He likened the search for a universal fare standard to the financial industry's development of the ATM networks. When magnetic stripe ticket standards were developed, it allowed banks to roll out ATMs globally enabling ATM users to access cash from anywhere in the world. "Transportation," said Mr. Parker, "could follow this same model utilizing a smart card."
Mr. Garback laid out the UTFS mission statement rather succinctly at the Smart Card Government Conference: "To develop a series of documents that provide industry guidance for the creation of an open architecture payment environment that promotes greater access and convenience to the public transportation network and enables integration of independent payment systems."
The UTFS guiding principles, he said, include:
Promote economies of scale for agencies and enable more competitive procurements.
Provide a platform to support agency independence and vendor neutrality.
Strive for a platform that maximizes compatibility with current automated payment systems, thereby reducing integration costs for agencies with legacy systems.
Foster development for a multi-modal and multi-application environment that includes non-transportation applications.
Provide information for informed decisions and development of partnership strategies.
He said UTFS activities are planned through the Spring of 2005. Work products will be in the form of standards, guideline specifications and research/white papers. Some short-term outputs will include options for addressing business issues, regional transportation, and the aforementioned Trends in Electronic Fare Media. Another document, Fare Card Procurement Procedures, is also due out soon.
Long term outputs will include Magnetic Fare Media Specifications as well as Smart card Specifications during this year and Security Planning Guidelines during the second quarter of 2005.
Mr. Peacock estimated the task force was "about half way done. We've had a lot of organizational issues, intellectual property issues to overcome. The principle of the program is to eliminate proprietary software and hardware and make it a more open system." He predicted that standards should be released in about 18 months that would be "a set of guidelines for decision makers on how to procure a transit system, some specifications for components of this system in an open architecture so that only the interfaces are defined."
However, as with any technology, "the process is probably never going to be completed," said Mr. Parker. "Fare media is constantly evolving. One reason it has taken so long to get these documents out is that if it takes us six months to do one, the technology may have changed and we have to change it (the document)," he added.
"Once we get to the maintenance part, when we've pulled all the pieces together, we want to make sure we've given our organizations a lot of flexibility. We don't want to impose standards that are unnecessary."
The goal is to proceed slowly, not to go with a national standard yet, but work by region first, said Mr. Parker.
"For example, if you were in Washington, D.C. and wanted to go up to Baltimore, then to New Jersey, then New York you could do it with one card. What we're doing is working with them in developing interoperability along that northeast corridor. We're also working with the Port Authority in New York."
On the west coast, "we're also sharing our (BART's) strategy with Los Angeles. We're trying to develop all this regionally, then we'll go to a national solution," added Mr. Parker.
He gave a three-pronged outline that also summarizes what UTFS hopes to accomplish and how:
"First, we have to partner with industry to make sure we work with developing standards that are implementable. Second we need to make sure we have interoperability and that it's affordable for the smaller agencies. It won't be successful with just the big agencies. And third, we need to partner with other entities to make sure we allow standards that are already in place, so we can all be on the same page and that we won't be doing dual work. We want to make sure we have ties with these different entities to make sure we understand what they're doing. And we want to be inclusive, not exclusive, as to what we're sharing at the table."
Undeniably, the efforts undertaken by the UTFS are massive–both in terms of the level of work and the importance of this work.
---
Additional resources:
Presentation on UTFS by Tom Parker
Presenation made at NIST workshop, July 2003 (File size: 2.3 MB)