Ventura County's transit card is a true contactless pioneer

By Andy Williams, Contributing Editor, AVISIAN Publishing
Being small can have its advantages. Ventura County California's smart card-equipped transit system serves just 15,000 riders daily. And even with six independent operators for its bus lines, the county can still reconcile how much each operator is to receive in transit fares each day. It can also deliver, in real time, a very accurate bus schedule via displays at each bus stop or on the Internet so riders know where their bus is at any point in time.
Ventura County is located on California's west coast, with Santa Barbara to the north and Los Angeles to the south. Its 800,000 people live in ten different cities. The mission of the county's transportation commission "is to enhance transportation throughout the county," explained Steve DeGeorge, director of technology for the Ventura County Transportation Commission (VCTC). "We primarily do that by insuring an equitable distribution of funds, by serving as an objective third party in prioritizing transportation projects and also oversee transportation operations."
Because of its size, the county has largely skated under the radar as smart card projects go. Even though it has likely the longest history of any smart card transit project in the U.S., and even ranks among the longest running smart card projects – transit or otherwise.
"We were one of the early pioneers," said Mr. DeGeorge. "We started in 1994 when the State Department of Transportation wanted to conduct a smart card research project." It was the county's size that made it desirable for such a project. "It was controllable," said Mr. DeGeorge.
A small consulting firm helped put together a system that was trialed for a number of years. According to Mr. DeGeorge, "that demonstration, while not real successful technically, did show a lot of promise and what these systems were capable of."
"Nine times out of 10 the system would crash," he said. "But it was a demo and we were trying to see what could work together. In 1994, the CPUs we were using were enormous and buses weren't set up to carry that kind of equipment. We used a Band-Aid and baling wire approach. We mounted these things the best way we could."
One of the problems, he said, was that not much thought had been given to the driver's interface with the system. "The operators hated it. We really did compile all these lessons we learned from that first project and put them into our second."

Early lessons lead to a better second attempt
Planning for the second iteration of the project began in 1999 when the Ventura County Transportation Commission (VCTC), like practically everyone else in the country dependent on computers, was trying to decide how to make its system Y2K compliant.
"We were trying to see whether it was worth changing our system or to go for a state-of-the-art system," recalled Mr. DeGeorge. "The decision was made to go for state-of-the-art and in early 2000 we bid the entire system." At the time, VCTC was operating 80 buses countywide. "We wanted something we could own and operate ourselves, where we could handle the clearinghouse, the maintenance, a system where we wouldn't have to (constantly) go back to the vendor," said Mr. DeGeorge.
An ERG/Motorola partnership won the contract but, Motorola later got out of the smart card business. The first 10,000 cards came from Motorola and the French-based company ASK is the current card supplier. The dual interface (contact/contactless) card is ISO/IEC 7816 and ISO/IEC 14443 Type B-compliant. It is called "Go Ventura."
"Our project was more than just electronic fare collection. We included the integration of automatic passenger counters and a suite of reports to allow us to do in-house reconciliation of sales and riderships and to give us statistical transit data by stop. We count every single passenger at every single stop. They had to meet this criteria."
Today, VCTC has 115 buses. "We do have commuter rail, but it is not yet part of the smart card project," he said. He would eventually like it to be, but since the rail can take passengers into Los Angeles, which has its own smart card program, so compatibility issues would have to be worked out.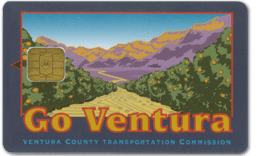 A host of factors make Go Ventura unique
"We're a little different than (many) other smart card projects," said Mr. DeGeorge. "Our e-purse is universal in our system. It will recognize the fare structure wherever you are. If you're in the north end, where trips are only $1 or you're eligible for a 10% discount (because of the number of trips you buy) the card recognizes this."
There are also four types of passes, he said. "Our cities don't actually touch (so) going from one city to the next requires you to take three different bus operators." Of the six independent transit operators, five are municipally-owned and the sixth is an intercity bus.
A pass is good for unlimited travel for a set time period. "So if you buy a pass for February, you can ride the bus for as much as you want and it only costs you $40," he added. "And it's good throughout our system." On the other hand, a card with an e-purse on it can only be used until the money on the card runs out. "We have our diehard pass users and our diehard purse users," he said.
With both, users can add value remotely. For now, they call VCTC or go to one of 20 VCTC outlets (POS terminals), and the next time the card is used, it's updated with the new value. "We don't currently have online sales," said Mr. DeGeorge, "but that is my very next project."
With a fleet size of just 115, you wouldn't think there would be 32 different vehicle types, but there are. "I have designed installations for all of them. They vary all over the place. But in the first project, we learned you have to involve the drivers right from the start. They helped us design each installation," said Mr. DeGeorge.
The buses are also equipped with GSM (global system for mobile communications) that allows VCTC to track every bus. "You can go on the Internet and see where the buses are. We also have signs at the bus stops to tell you, in real time, when the buses are arriving." VCTC uses NextBus, which uses GPS tracking satellites to provide the vehicle arrival information.
"In most smart card projects, a consultant is part of the project management team. In Ventura County, it was us and only the vendor; and in VCTC's case, just me. I really see this as something special. We worked with ERG, which has an office right next door. It's a very unusual working relationship and it has certainly helped me become very familiar with the system."
One of the reasons Mr. DeGeorge said he wanted VCTC to have autonomy over the project is that "I didn't want to have to go back to the vendor for route changes, or stuff like that. ERG gave us the ability to control that ourselves. We've changed routes, stops, fares 18 times and it never cost me a dime extra. ERG has always come through," he added. "At times I've been a pain in the butt. However, they've always worked with me and kept the project going. I certainly can't complain."
Nearby California State University Channel Islands developed its own version of the Go Ventura card, which is branded by the university.
"We had hoped that when Cal State was building the university they would embrace our card as their university card," said Mr. DeGeorge. "We built an adjunct project to ours to allow them to do that, but the university only embraced the transit application. They issue and brand their own transit card. In terms of the university card itself, they went in a different direction…so we don't control their cards. We just gave them a compatible system and we do receive their ridership data."
As to what's next for the Go Ventura Card, Mr. DeGeorge said VCTC is looking to increase its sales outlets and possibly allow the card to be used for purchases other than bus tickets. "I want to use it at merchants so bad, it hurts," he said. "But it's one step at a time."
---
Additional resources:
To visit VCTC on the web, click here.
To visit the GPS-enabled NextBus service, click here.