Video: PayPal launches bar code-based payments app in UK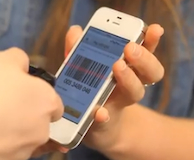 PayPal launched a new bar code-based mobile payments service in the UK that allows customers to pay for items in-store with their smart phones.
The PayPal inStore app, available for Android and Apple iOS devices, generates a unique bar code and transaction number for each purchase, which the store's cashier can scan to deduct payment from the customer's PayPal account.
According to PayPal, the app is protected by a unique PIN, and no financial information or money is stored on your phone. The app will even work without mobile or Wi-Fi signal.
The service debuted yesterday in 230 stores nationwide, including major high street retail chains Coast, Oasis, Warehouse, and Karen Millen.
Check out the video to see the app in action: