VingCard delivers contactless locks to Edinburgh hotel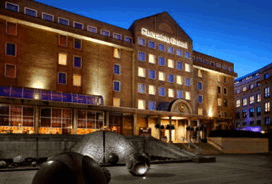 VingCard Elsafe has announced that the Sheraton Grand Hotel & Spa in Edinburgh, Scotland has installed VingCard's Signature RFID contactless locking solution.
Replacing the traditional magnetic stripe key card system, the new locks will enable guests to simply tap to enter their room using a contactless card or fob. The system can also be adapted to support NFC technology, allowing guests to used their NFC-enabled mobile phone to check in remotely and receive an encrypted room key through SMS. Guests can go straight to their room and tap the phone against the lock to gain entry.
Aside from guest convenience, the system also offers a 600 event audit trail and anti-cloning software to ensure guest safety, and even uses less power than traditional magnetic key cards, according to VingCard.
In addition to the locks, Sheraton Grand Edinburgh has also implemented VingCard's VISION software, which enables the locking system to be integrated with the hotel's property management and point-of-sale systems.
According to VingCard, VISION lets hotel management control exactly who has access to every door on the property, and when, by specifying restrictions within defined user-groups.
The 269-room hotel, which recently underwent a complete refurbishment, is located near Edinburgh's Exchange financial district and its Princes Street shopping area.