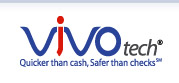 Company hopes to hold on to software biz
As Mark Twain once said, "the reports of my demise are greatly exaggerated." So too says ViVOtech. Reports late last week that the point-of-sale manufacturer and software company was ceasing operations may be reality but the company posted on the homepage of its Website that it's "restructuring."
The company has been looking for a buyer for the past six months, according to the statement. "The sale has moves slower than anticipated. ViVOtech has not ceased operations but is in the process of restructuring operations and has reduced its team to a small group with the goal of maintaining customer relationship and core contract work, and to address out supplier relationships and commitments, as the company completes plans to divest the reader business and focus on the software business."
The company was founded in 2001 with an eye on the contactless payments,, but grew to include software, over the air card provisioning, promotion, and transaction management infrastructure software, NFC smart posters and contactless readers/writers. The company was a partner with Google Wallet and the upcoming ISIS rollouts.
While it successfully helped migrate a reported 1 million merchant terminal locations to contactless, it appears to have burned through nearly $100 million dollars in the process.
Investors include Citigroup, First Data Corporation, Motorola, NCR and Nokia as well as the venture capital companies Draper Fisher Juvertson and Alloy Ventures.
The company reportedly raised up $96 million to date and was looking at an IPO as early as this year, according to a Gigaom.com report. The most recent funding came in March, when it took on more than $20 million.