Winners crowned at 'Isobar Create London' NFC developer event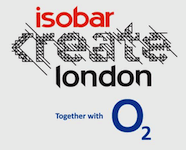 Two teams of NFC developers have been awarded kick-starter funds after being named winners at Isobar and O2's "Isobar Create London," a 34-hour challenge which brought together more than 65 international developers and designers at the Shoreditch Studios in London this weekend.
Team Rollercoaster, comprised of students from the London School of Communication Arts, won funding from BlueVia for its app that uses NFC to help theme park visitors pay for and secure their place in a line for a ride.
Meanwhile, Team Blue Butterfly won the £10k fund from Proxama for "Tap-to-WiFi," an app that uses NFC to allow people to simply tap to connect directly to WiFi in bars, cafes, hotels, airports and more.
Another team, London BBDG, won a trip to the BlackBerry Jam 10 conference in Orlando for its supermarket-shopping app that uses NFC to help people tailor their shopping experience to their diet and scan products from the shelf for on-the-fly payment.
The Create London event, the third in a series Isobar Create events, challenged 20 teams to devise and develop NFC applications in just 34 hours, before pitching to a panel of judges from Isobar, O2, BlueVia, BlackBerry, Samsung, Proxama, The Guardian and Contagious Magazine. The two prize fund winning teams will now receive support and advice from a range of experts as well as kick-starter funds to help bring their apps to market, according to O2.
Read more about the winners here.