Yubico launches NFC security token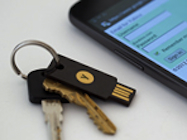 Yubico has announced the launch of YubiKey NEO, an NFC-enabled version of its YubiKey USB authentication token for single tap mobile security.
The device, which fits on a keychain and includes NFC contactless technology as well as a USB interface, can be read by an NFC-enabled smart phone or tablet straight out of the box to deliver a securely encrypted one-time password (OTP).
"The NFC enabled YubiKey NEO is our first step in expanding Yubico technology across smart phone and tablets," said Stina Ehrensvard, CEO and founder of Yubico. "Whether you are authenticating an email account or an NFC payment service from your smart phone, mobile applications have shown to be vulnerable to several forms of attacks. Having a separate easy-to-use hardware device that leverages two-factor authentication for your Smartphone is critical for minimizing the risk of mobile malware."
Yubico is also offering apps to enhance the NEO user experience, such as LastPass, which enables users to securely unlock their password vault by swiping the key against an NFC-enabled smart phone or tablet.
The YubiKey NEO will be demonstrated at the RSA Conference in San Francisco, Feb. 27 – March 1. Pre-production samples can be ordered from the Yubico Web store on Feb. 27, with full production scheduled for later this year.