Australian ski resort adopts NFC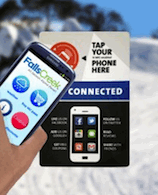 NFC Wireless, an Australia-based distributor of NFC products, has helped make ski resort Falls Creek the first NFC-connected town in Australia.
More than 50 Falls Creek businesses have added NFC stickers from NFC Wireless to their storefronts, enabling customers to tap their NFC phones to automatically launch a mobile website from which they can download coupons and discount vouchers, buy ski-lift tickets, check the weather, access social media and more.
According to NFC Wireless, any business can buy the NFC sticker for a few dollars, and then use the company's on-line tool to set up a mobile "Pod" site in a matter of minutes. From there, the business can choose from dozens of services to offer their customers.
Read more here.