Caen France hosts world's premier NFC trial with mobile phones enabling host of contactless applications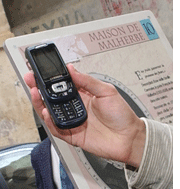 Some 200 mobile phone users in Caen, in the northwestern part of France, are learning first hand what Near Field Communications (NFC) technology is all about. Want to buy something? Wave your cell phone. Want to use a car park? Hold your cell phone up to the reader. Want information on a tourist site? Hold your cell phone…well, you get the idea. As the Caen trial illustrates, the cell phone is becoming the "Swiss Army Knife" of the modern world.
"What we have in Caen is a world first – not the first NFC trial, but the first in the size and number of applications," said Christophe Duverne, vice president, Identification of marketing and sales for the Netherlands-based Philips Semiconductors which is taking part in the pilot. Mr. Duverne is also chairman of the NFC Forum, an organization created last year to, as he put it, "evangelize NFC."
Jointly developed by Philips and Sony, NFC is a combination of contactless identification and interconnection technologies that enables wireless short-range communication between mobile devices, consumer electronics, PCs and smart objects. NFC, says Mr. Duverne, offers a touch-based solution that allows consumers to exchange information and to access content and services.
With this Philips-developed technology, the 200 randomly chosen residents in Caen will use mobile phones with an embedded Philips NFC chip as a means of secure payment in selected retail stores, parking facilities and tourist sites around town. For the six-month trial, Philips is working with France Telecom R&D, mobile phone network operator Orange, handset manufacturer Samsung, and French retailers Groupe LaSer and Vinci Park, along with the City of Caen, which is allowing some of its tourist attractions to be "tagged" with RFID chips.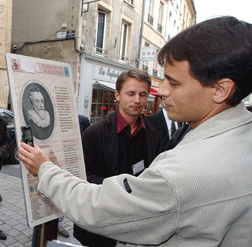 The point-of-sale (POS) solution is based around the Ingenico 5100 terminal. According to Dominique Gauthier, Strategic Marketing Manager, Ingenico, "the 5100 is the best selling terminal in the world. With one million units deployed in just two years, it accounts for almost 10% of the (POS) market." Completing the solution is a contactless reader from OTI that attaches to the Ingenico terminal.
"The great potential of NFC is being illustrated in Caen where consumers can easily use this technology to simplify transactions, obtain information and reduce the amount of time spent in queues (lines)," said Mr. Duverne.
"We are excited about the technology. It shows what we have been preaching for a number of years is finally coming to fruition," he added. "This is something people can really relate to. The technology is so obvious you wonder why it didn't happen earlier. It's something you can see and feel for yourself. And you don't have to go through so many steps to make it work. When you go into a car park, for instance, you just bring your cell phone near the reader."
This became evident when the NFC trial was first introduced. "We took a group of journalists around the city, like a two mile walk so people really had a chance to look at the applications," said Mr. Duverne. A clerk at one of the stores provided input, said Mr. Duverne, on how consumers were handling the technology. "The feedback we received was that things were very simple to use. It was good to have that confirmation."
A number of "information points" were created throughout the city–for example, posters with RFID tags or video streaming applications. "For example there was a poster advertising a movie. You wave your cell phone past it and you get directed to a web site where you can see a preview of the movie," said Mr. Duverne.
Why Caen? Actually, the broader question is why France? "The French government is trying to develop competitive hubs in a number of areas," said Mr. Duverne. "In Caen, the competitive hub is being developed around secure electronic applications."
He said that after the initial 200-user trial, "we'll go commercial, on a bigger scale. As we move forward, we're going to recruit more alliance partners for this trial. We'll add more retailers and a few more applications. Once we have significant data points, we'll move forward. We are really committed to this."
More on the actual Caen applications …
Currently, the range of services and applications for the NFC-enabled Samsung phone (the D500) includes:
Retail applications: Groupe LaSer Chains, which include Monoprix (supermarket) and Galeries Lafayette (department store), are equipped with NFC payment terminals enabling users to pay at checkout using their NFC phone. Along with more stores, the trial will eventually add a cashless payment scheme in partnership with Cofinoga, the consumer credit arm of Groupe LaSer, said Mr. Duverne. Point-of-sale hardware from Ingenico powers the trial's retail payment environments.
Car park access: When users wish to access a car park, they simply pass their NFC-enabled phone in front of the entrance booth. The car park ticketing application automatically issues a virtual ticket on the mobile phone and debits the cost from the user's season card or pre-paid account when the phone is passed across the terminal when the user exits the car park.
Tourist services: When an NFC phone is swiped across information points at landmarks in Caen, a phone call will be made or SMS message received containing tourist information about the site.
Active Posters: During the trial, more applications will be added, including the ability to purchase mobile phone content, such as ringtones and wallpaper, through posters that include embedded NFC tags. Also, residents can use their phones to download a city bus schedule from a poster at the bus stop. The download gives either an audio or visual schedule.
According to Philips, the solution used in this trial incorporates secure, over the air (OTA) download of applications on a GSM network and automatically recognizes the appropriate application to launch when an NFC connection is made. In addition to NFC, the Samsung phone also incorporates a Philips smart card chip, enabling users to make payments and use banking applications.
"Effectively NFC is contactless," said Mr. Duverne. "The major difference is that the NFC chip in a cell phone can act as a card and reader, while a contactless chip can only act as a card. (A card or chip) is not powered, like a cell phone."
What will it take for NFC to become mainstream?
Because the contactless infrastructure is already available in the U.S., Mr. Duverne believes that will facilitate an NFC rollout there, possibly as early as next year.
"One of the things that needs to happen is the availability of commercial handsets," he said. "What we've had so far are prototypes but we expect to see several companies in 2006 come out with NFC-capable handsets. The elements are there today for companies to develop the applications."
To drive development and adoption of NFC, Philips, Sony and Nokia established the NFC Forum about one year ago. The Forum is a non-profit industry association which promotes implementation and standardization of NFC technology. The Forum currently has more than 60 members around the globe including MasterCard International, Matsushita Electronic Industrial Co, Ltd, (Panasonic), Microsoft, Motorola, NEC Corporation, Renesas Technology Corp., Samsung, Texas Instruments, and Visa International.
"We established three major objectives (for the Forum)," said Mr. Duverne. "We want to have the leading companies involved in NFC, good geographic coverage, and good industry coverage, not just with semiconductors but with handsets too. We've achieved all three objectives," he said.
"Our aim is to evangelize the technology and on the other hand to work on standardization issues. In both areas, we are making good progress. It's important that we can deliver on the specs that companies can implement fairly quickly." He believes this will be done in the first few months of 2006. "There will be enough elements in place for companies to do NFC implementations," he said.
"NFC will fundamentally change the way consumers use technology and businesses implement it," added Mr. Duverne. "NFC will have a tremendous impact on our day-to-day lives, and I'm pleased that Philips, France Telecom, Samsung, Groupe LaSer and Vinci Park together have made this first broad-scale rollout of NFC possible."
Near Field Communications News and Insight
Explore more developments dealing with the implementation of Near Field Communications, a short-range wireless technology that promises to revolutionize contactless identification, payment, access, and more.
Click to visit NFCNews
.