NFC goes from pilot to commercialized rollout in Germany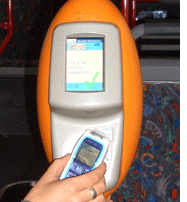 By Andy Williams, Contributing Editor
NFC is making a name for itself. After a number of high-profile trials last year and early this year, what is being heralded by many as the first commercial rollout of the near field communication technology launched recently with bus passengers in Hanau, Germany.
Why Germany? "There was no deeper reason in choosing Germany than that we had good contacts with Nokia," said Holger Kunkat, program manager for mobile secure NFC solutions with Philips Semiconductors.
Nokia, Philips, Vodafone and the Rhein-Main-Verkehrsverbund (RMV), the regional public transport authority for the Region Frankfurt Rhine-Main in Germany, kicked off the deployment following a successful ten-month field trial. Nokia 3220 mobile phones with integrated NFC technology are now being used as electronic bus tickets. The phones can also act as loyalty cards for discounts at local retail outlets and attractions in Hanau.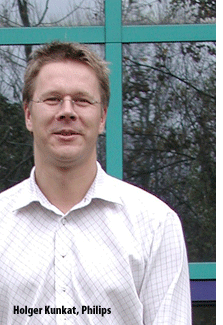 "We got in touch with RMV. They're innovative in terms of enabling new ticketing systems in Germany and they already had a contactless ticketing system for buses," Mr. Kunkat added. "With the contactless ticketing system in place it was just a simple matter to use a phone instead of a card."
Since the NFC-equipped phone sends out the same signals as a contactless card, no upgrades of the Cubic-supplied transit readers were needed, he said.
It also helped, said Mr. Kunkat, that "in Hanau people already had experience with using contactless smart cards." That's a far cry from a study Philips recently conducted in Atlanta, GA with NFC phones. The small study showed that among novices in the use of contactless, education was extremely important. Even figuring out where to pass the phone over the reader required training (see sidebar).
"How to do the ticketing, that knowledge was already in the hands of the people. They like the convenience factor (of an NFC phone). They don't have to take a dedicated card; just take the phone instead," said Mr. Kunkat.
Hanau is a city of about 95,000 located some six miles east of Frankfurt in central Germany. Currently, a couple thousand are using the NFC phones, said Mr. Kunkat. The ten-month trial involved just 165 people.
"During the trial period, the feedback from the people involved was so overwhelming that the idea was born to go with a commercial application," said Mr. Kunkat. At the end of the trial, more than 90% of the trial participants considered this a positive, convenient system worth continuing.
In the trial and in the commercial deployment, Philips has "acted more as a technology provider bringing the relevant people together," he said.
Vodafone, a mobile telecommunications group with operations in 26 countries across 5 continents, has shops that are offering the NFC-enabled Nokia 3220 handsets for sale. At the end of the month, the customers will receive an invoice from the local public transport operator outlining all trips taken, and the costs, which are calculated using the best available fares at the time of travel.
"It's a postpaid system," explained Mr. Kunkat. "Passengers have to check in on the bus and check out … and at the end of they month you get a bill provided by the system integrator. This way, people have better control over the amount of trips. The billing system collects al your trips, time of day you took the bus, etc." The bill arrives separately from the passenger's normal phone bill. "There are currently no plans of including all on one bill," he added.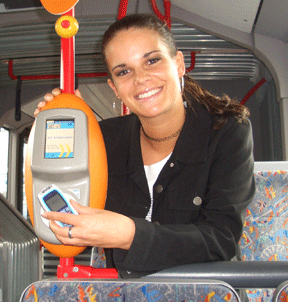 In addition to public transport ticketing in Germany, a newly introduced local leisure card – the "RMV-ErlebnisCard Hanau" loyalty card – is being incorporated into the NFC-enabled phones. This feature enables mobile phones to receive discounts at RMV's 14 selected retail partners in the area including restaurants, shops and local attractions.
This, says Mr. Kunkat, is the next natural step towards an NFC-enabled payment program at retail merchants in Hanau.
"The technology in the phone is the same," he said. "The issue for the payment system is to have the application stored on the smart card, such as PayPass or other credit card or debit card scheme. You just have to store the contactless application into the phone; and it will behave like a contactless smart card."
As to expanding beyond Hanau, "the issue in Germany is that public transportation is a fragmented market. If you drive 100 or 200 kilometers you'll find a different regional transit system."
Still RMV's region encompasses some five million people, so there is certainly room for expansion.
"We have very good indications that we will have more commercialization in 2006 and there's a strong indication it will be in the U.S. maybe by the middle of the year," he noted though refusing to elaborate further.
However, since last December, Visa and Philips have been working together on a major NFC trial at the Philips Arena stadium in Atlanta, Georgia. The pilot allows sports fans to buy goods at concession stands and apparel stores using their NFC-enabled phones. Additionally they are able to access and download mobile content such as ringtones, wallpapers, screen savers and clips from favorite players and artists by holding their NFC phone in front of a poster embedded with an NFC tag. Other partners in this trial include Nokia, Cingular, Atlanta Spirit, Chase and ViVOtech.
Philips also has two other NFC trials underway, one in Caen, France and the other in Taiwan. In the Caen trial initiated last October, residents use Samsung D500 mobile phones with an embedded Philips NFC chip to secure payment in selected retail stores, parking facilities and to download information about famous tourist sites, movie trailers and bus schedules. Partners in this pilot include France Telecom, Orange, Samsung, retailer Group LaSer and Vinci Park. Philips has also been working with Taiwan's Proximity Mobile Transaction Service Alliance (PMTSA) to demonstrate a BenQ prototype mobile phone capable of making secure payments using NFC that is part of a plan to deploy NFC-enabled mobile phones for access to Taiwan's public transport network.

About NFC:
NFC technology evolved from a combination of contactless identification (RFID) and interconnection technologies and operates in the 13.56 MHz frequency range, over a distance of typically a few centimeters. NFC technology is standardized in ISO 18092, ISO 21481, ECMA (340, 352 and 356) and ETSI TS 102 190. NFC is compatible with Sony's FeliCa card and the broadly established contactless smart card infrastructure based on ISO 14443, which is used in Philips' MIFARE technology and other offerings.
Near Field Communications News and Insight
Explore more developments dealing with the implementation of Near Field Communications, a short-range wireless technology that promises to revolutionize contactless identification, payment, access, and more.
Click to visit NFCNews
.