CARTES 2004 shaping up to be the biggest and best ID technology event to date

Biometrics, Contactless, and RFID, three fast moving technologies, will share a lot of the limelight at the upcoming 19th edition of the CARTES and the fourth edition of the IT Security Conference. It will all take place, as in years past, in Paris, France, Nov. 2-4.
This new edition of CARTES & IT SECURITY, which attracted some 14,000 last year, is expected to gather that many and more from 120 counties. It will feature some 400 exhibits, 13 CARTES and seven IT Security conferences led by more than 260 international experts in card and identification technologies.
"Bolstered by the vitality and exceptional results achieved at last year's event, CARTES & IT SECURITY 2004 will once again reflect a market that–beyond the traditional banking, telecom and transport sectors–is set for rapid expansion (such as) security issues relating to…equipment, networks, access and even territories," said Sophie Lubet, general commissioner for the show, in a welcoming message.
"The exhibition's international scope and sharp rise in visitor figures for 2003 now position CARTES & IT SECURITY as the world's largest gathering of professionals from the smart card and secure technologies industries," she added.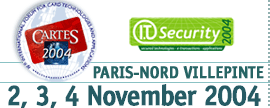 The popular SESAMES Awards, which give winners bragging rights for at least a year, not to mention the increased sales potential for their winning technologies, will be presented on Nov. 2. This year's contest brought in 126 entries which has been narrowed to 27 nominees in nine categories. The winners will receive their trophies at the Paris-Nord Villepinte Exhibition Centre (Ceremony at 6:30 pm, Jean Thèves auditorium). A list of the nominees, and more detailed conference information is online at: http://www.cartes.com/en/index.htm.
For the fourth time, CARTES will feature a "guest of honor" country. This year, it's Italy, which has transit (e-ticketing), banking and government ID projects either in the works or in the planning stages. The U.S. was honored in 2001, China in 2002 and Brazil last year.
Here is a brief look at the educational part of the conference.
CARTES sessions
Nov. 2
RFID and Contactless: RFID technology has produced two major types of products, smart labeling for animal and product identification and contactless cards for access control, ticketing, etc. In addition, thanks to the International Civil Aviation Organization, travel documents, such as passports, visas, etc. incorporating contactless card technology are now in use. This entire session will be devoted to exploring this rapid-moving technology.
Card Fundamentals: This seminar will provide a general overview of what a smart card really is and the technologies and applications it covers.
SIM cards: Telephone operators, card manufacturers and solution developers will present their solutions for the mobile telephone sector.
Nov. 3
Electronic Payment: What advantages does smart card technology bring to card issuers? What plans exist for EMV migration worldwide? Should contactless card technology be incorporated? What is the best approach towards migration? What has the smart card done in terms of fraud prevention? Answers to these questions and more will highlight this session.
Cards and Transport: The transport sector is the biggest user of contactless cards because of their high-throughput capability. An exploration of multi-application procedures that could be used in the transport sector, the level of security that these cards guarantee and the kinds of standards that should be applied are some of the issues to be covered here.
Cards and Loyalty: Loyalty cards are gaining in popularity with the most prevalent, mag stripes. Does the smart card have a future in loyalty applications? Or, what new applications can be implemented using the smart card?
Manufacturing Techniques (2 p.m.-5:30 p.m.): Directed at anyone intending to issue identification and travel documents, this 3 _ hour conference aims to provide an overview of this sector's potential and the information necessary for system management.
Smart Card Trends: Where is the smart card industry headed? What are the emerging markets? What new developments are expected and in which areas? This session will cover four sectors, each examining a different part of the smart card industry: Banking and finance, telecommunications, e-government, and e-money and micro-payment.
JavaCard: How safe is the JavaCard? What are the latest technical specs? What are the existing applications, and in which sectors?
Nov. 4
Multi-applications: They're now a reality, thanks to the development of microprocessors with processing and memory capacities that allow leak-proof management of several different applications. How can a system using multi-application cards be deployed? This conference will examine such cards across all sectors and fields.
New Terminals: Increased use of smart cards has led to the development of electronic terminals that incorporate new communication technologies–such as the Internet, GPRS, Wi-Fi–and that possess increased encryption and memory capacities. These terminals also use new technologies for payment and identification. This day is dedicated to developments in terminal technology and secured electronic transactions.
New Smart Card Components: What advantages can be obtained by increasing the encryption and memory capacity of a smart card's microprocessor? How can masks be produced using DDA (Dynamic Digital Authentication) without increasing the price of the components? Industry representatives will introduce their latest products give their forecasts for future products.
Interoperability in Contactless and RFID (2 p.m.-5:30 p.m.): A greater need for communication between applications highlight the interoperability systems issue for smart cards, contactless cards, and RFID. This conference will focus on the convergence of products to provide greater interoperability.
IT Security sessions
Nov. 2
Biometrics 2004: Countries seeking to implement reliable identification systems can get a look at the more successful technologies and applications currently available and what may be coming down the road.
Identification in the Banking Sector: This seminar will focus on the ID tools and applications most widely used in banking, such as automatic cash dispensers, Internet payments, and bank accounts from home.
Nov. 3
Security of Administrative Documents (9 a.m.-12:30 p.m.): International regulations mean tighter security levels for administrative and travel documents. What are the most widely-used technologies and what have the major national and international organizations chosen?
Access Control: The problem is not how to prevent access to all, but how to restrict access to some. What is the best infrastructure? Is it compatible with the company's information systems? Can the issuing and validity of the cards be managed and monitored? Can the access control card and the company card be linked?
Nov. 4
Electronic Identity in the Government Sector: Which electronic ID card applications exist around the world? Which strategies have been adopted by the first countries to implement electronic ID schemes? What are the technologies being used?
Smart Card Systems Security: What are the key considerations in the smart card security chain? How can security be ensured throughout the card's life cycle? What best practices should be applied? What level of security do contactless cards provide?
Card Management (9 a.m.-12:30 p.m.): What are some good card management practices when you're issuing cards to your employees, vendors, visitors, and other personnel? This is a good opportunity to learn from the experiences (good and bad) of others.
Kicking off the event Nov. 2 is the day-long Smart Card Summit where industry presidents and CEOs will present their visions of the market and future developments for 2005.
Where are the smart card and related software and equipment industries headed? What are the trends and future outlooks among manufacturers? Also, company executives from this year's guest of honor, Italy, will unveil their programs and available opportunities.
AVISIAN Publications will have writers from all of our publications–ContactlessNews, CR80News, RFIDNews, and SecureIDNews—on site to cover the happenings. The next best thing to being there is reading about here!