CARTES event brings world's ID community to Paris for top notch education and expo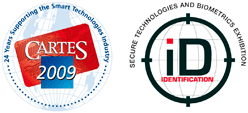 CARTES and IDentification Congress 2009, featuring 1,500 delegates, 240 speakers and 20,000 visitors, will take place in Paris, Nov. 17 though Nov. 19 at the Paris-Nord Villepinte.
The 24th edition of CARTES has also added four new areas in addition to the return of most of its normal standbys. Not to be overlooked, however, is the Sesames Awards presentations that always occur on the eve of the CARTES show. From an original 309 applicants and 34 finalists, ten winners will be announced on Nov. 16.
Opening CARTES Nov. 17 will be the World Card Summit that will bring together leading directors from the card and identification markets. Throughout the three-day event there will be 15 card and ID programs, some a full day others a half day.
CARTES' four new offerings include:
Payment in Emerging Countries, (Nov. 17)
Mobile banking holds promise for developing countries since cell phones outnumber payment cards by a large margin. This session will look at some of the success factors needed to create a sustainable system, including the right business model, ease of use, reliability, legality and security.
Banking, leader or outsider? (Nov. 18)
How are the different players in this market positioning themselves due to the emergence of new contactless and NFC payment methods? In addition, the gradual implementation of the Single Euro Payments Area is opening up the payments market to competition, allowing an even broader range of players, including telecommunications companies and retailers.
Prepaid in Motion, (Nov. 18)
This half-day session will look at prepaid cards and whether they represent the new market opportunity for payment cards. Besides increasing usage as gift cards, prepaids are also being used to provide social benefits and insurance and as a method to reach the under-banked.
Transactions at Point-of-Sale, (Nov. 19)
How do you insure to merchants and customers that a POS terminal is accurate and secure, that customers don't have to worry about their data being hacked and that merchants are complying with PCI requirements? Finally, will savings from fraud prevention justify additional security costs?
Here is the rest of the CARTES show agenda:
Nov. 17
Cards and Payments 2009
Delve into contactless payments, its progress and pilots and what has been learned form them. Are users ready for the transition? Are current technology and security measures enough? And what do you need to manage a large rollout?
Multi-Applications
Look at recent technological advances in cards that have made it possible to host several applications on a single chip regardless of form factor. This makes it possible to offer cardholders numerous services in both contactless and mobile areas.
Back to Basics
Consider globalization, new trends in payment card issuance, fundamentals of Java Card technology and PayFair, the new European payment plan.
Data Protection
Explore the techniques and strategies to mitigate both the risks and consequences of data security and privacy breeches. Topics include the latest security research, key management, best practices, secure network infrastructures and responsible disclosure.
Nov. 18
Mobile Money Services: Can I pay with my mobile?
Look at pilot results that confirm mobile payments will be the next feature demanded by consumers. How will consumers prefer to pay at traditional retailers? How about payments in the virtual world, which is also moving to the mobile space? What's required to get banks more involved?
Convergence
Explore convergence and collaboration. Both mobility and identity are influencing the development of smart card products and will continue to do so over the next five years. Due to the challenges faced by the use of numerous new technologies and their large scale rollouts, the need for cooperation between issuers, service operators, technology suppliers and lawmakers/regulators has greatly accelerated.
SIM Power
Consider the technological advances of SIM cards. The microprocessors offer more functions and support more applications than ever before and are forming the hub of a new generation of converged services and applications. The presentations will highlight the increasing role played by SIMs in provisioning and securing personalized access to networks and will also review the latest innovations, such as Smart Card Web Server and Mobile NFC.
NFC Forum Conference
Learn about the forum's latest activities and plans regarding NFC technology, certification and projects currently underway.
Xiring Conference
Explore strong authentication solutions for e-banking & e-commerce, including securing remote transactions with home chip and PIN solutions. The session will cover the status of the technology and the benefits and implementations so far. It will also look at case studies from European banks that have successfully put a physical, easy-to-use, and dedicated security device in the hands of their customers.
Nov. 19
Citizen ID
Look at citizen identity programs that are driving innovation with national ID programs, e-passports, driver licenses, health ID cards and first responder credentials. This increased demand has moved secure identity credentialing into the mainstream of chip technology. This session will also highlight the advances in citizen ID programs from around the globe.
NFC and Contactless
Take a customer-focused approach and look at why contactless and NFC have been so successful in other regions, such as Japan and Asia. Explore what can be done to replicate that success globally and who is needed to kick start this process, as waiting for a perfect ecosystem to manifest itself doesn't appear to be working.
Loyalty Gift Cards and Co-Branding
Explore why loyalty programs have usually thrived in a recession and how the combination of new technology, changing laws and global brands are about to make the loyalty industry a safe bet for the future.
Card and Security
Address major card security themes and look at threats, vulnerabilities and the roles of the smart card and other form factors, such as USB tokens and NFC phones.