Cirque demos NFC-enabled computer track pad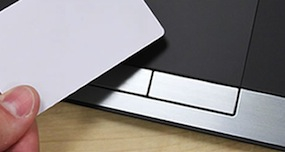 Salt Lake City-based Cirque demonstrated a prototype of its NFC-enabled GlidePoint computer track pad at the Consumer Electronics Show in Las Vegas, according to Engadget.
The GlidePoint NFC track pad, which can be built directly into a laptop or attached as a separate unit via USB port, features a built-in NFC antenna that can receive data from mobile devices, NFC-enabled tags or business cards, and other NFC devices with a simple tap.
Cirque's technology is a patented combination of NFC and touch sensors formed by etching an NFC antenna on the margins of the sensor or integrating it inside the touch module, according to the company.
The first laptops with embedded NFC track pads won't hit the market until mid-2013, but the USB version should debut in the next four months.
Read more here.