Coca-Cola launches NFC ad campaign in Singapore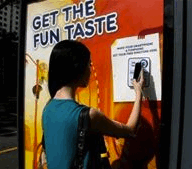 Coca-Cola, in partnership with media agency MEC, Clear Channel and Tapit, has launched an NFC-enabled poster campaign in Singapore for Fanta brand soft drinks.
According to MEC, 200 posters equipped with NFC chips or stickers have been installed in "NFC shelters" around Singapore. NFC phone users can tap their handsets against the posters or scan a QR code to download content.
The NFC shelters can be found around several major Singapore hubs, including Orchard Road, Cairnhill Road and Victoria Street, says MEC.
"The strategy of using NFC and QR combined on the Clear Channel Street Furniture has allowed us to accommodate the majority of mobile internet users in Singapore," said Jamie Conyngham, CEO of Tapit. "Tapit analytics has visually broken down the campaign into who tapped or scanned where and when in Singapore and which campaign caused more interactions. Clear Channel now knows which parts of its inventory received the most mobile interactions and therefore can focus mobile centric campaigns around these areas for their current and future clients."