Convergence of contactless payment, identity, and other services in '05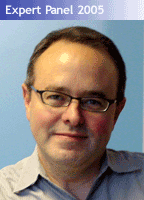 A panel of ID industry experts provided predictions for 2005. One of these glimpses into the future will appear here each day during December.
by Michael Richardson, Chief Technology Officer, SMART System Technologies, Inc.
SMART System Technologies, Inc. (SST) predicts that the next year will be the first of a 10-15 year trend in the convergence between consumer identity and contactless payment and loyalty.
In terms of adoption, we have already seen the credit card associations allocate additional resources to support expanded distribution to contactless credit and debit cards. They are also starting to address the challenge of installing equipment for merchants to accept contactless payments.
To persuade merchants to accept the new technology, SST predicts that the card associations will need to reach an agreement to allow co-branded readers. Ultimately, the ideal solution for merchants will be a reader that is based on an open standard and capable of accepting each card's contactless token.
When it comes to consumer applications, we are seeing a growing trend in the use of proximity identification for corporate access and employee identification. SST expects applications to be developed in the next year that will enable employees to use the same identification card they use to enter their office buildings to make contactless payment purchases in the corporate cafeteria and to access additional employee areas such as parking and workout facilities.
Over time, we envision that these capabilities will even extend to surrounding merchants, enabling individuals to use their employee identification cards to purchase gasoline or stop for food at quick service restaurants for instance on their way to and from work. Consumers will also be eligible to receive increased loyalty rewards based on usage in each of these environments, and from groups of merchants through coalition marketing opportunities.
Public transportation is another setting where it is now possible to think about using one mechanism embedded in a transit tag, wristband or watch to commute and pay for necessities along the way. This could be funded by a cash deposit at a kiosk, through a checking account, by a payroll deduction or over an interchange with credit and or debit cards.
As the market evolves and more consumers adopt contactless payment technology, SST expects that a more sophisticated means of marketing to consumers will be required and traditional methods may not be as effective. For instance, it will become increasingly more important to provide electronic coupons and targeted promotions in real-time to meet consumer demand for instant gratification.
Another method of communicating with consumers in real-time will be through SMS messaging and near field communication (NFC) enabled handsets, which will also enable peer-to-peer transactions independent of the underlying cellular networks.
SST expects to see significant numbers of NFC devices become available in the next 12-24 months. In the peer-to-peer scenario, an individual could purchase two concert tickets and sell one to a friend via NFC handsets, without having to deal with the exchange of cash or waiting for a check to clear.
---
Visit SMART System Technologies on the web at www.PowerPayIT.com.
Near Field Communications News and Insight
Explore more developments dealing with the implementation of Near Field Communications, a short-range wireless technology that promises to revolutionize contactless identification, payment, access, and more.
Click to visit NFCNews
.