Dublin debuts contactless transit card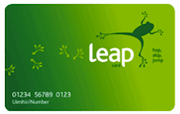 After nearly ten years and over €55 million, Dublin's "Leap" transit card has finally hit the market, reports Herald.ie.
The contactless smart card is now available for use on Dublin Buss, Luas, Dart and commuter rail lines around the capital. Rather than having to buy separate tickets or pay with cash, Dublin commuters now can just tap their Leap card against a reader aboard the transport of their choosing.
Monthly tickets and cash will continue to be accepted on public transport, but those using Leap cards will save 9 percent on their fares, according to Herald.ie.
The cards can be purchased online or at one of 400 outlets around Dublin. Like London's Oyster card, Leap runs on prepaid credit that can be added at Leap outlets as well as online.
By summer 2012, the Leap system is expected to incorporate Bus Eireann, and shortly thereafter Iarnrod Eireann's mainline services.
Read more here.