Floundering or Burgeoning? Examining the contactless payments market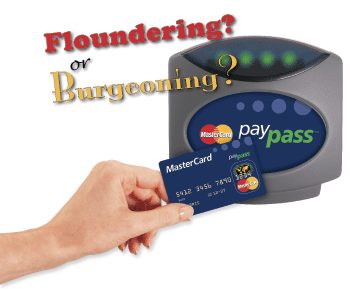 By Andy Williams, Contributing Editor
The state of the contactless payments industry is up for debate depending on whom you ask. Recent issuance statistics have led some to claim victory, while others have interpreted the same numbers in a much more negative manner. "You are definitely going to get a glass half full glass half empty difference," says Randy Vanderhoof, executive director of the Smart Card Alliance.
Javelin Strategy, a Pleasanton, Calif.-based research group, released a report in the spring stating that contactless technology hasn't taken off as fast as many thought it would. Researchers don't agree on how many contactless cards are out there – in the U.S. or even throughout the world – possibly because of the reluctance by credit card companies to release precise country-by-country figures.
MasterCard International reported in the last quarter that 37 million contactless cards have been issued in 24 countries with 122,000 merchants accepting the card, says Cathleen Conforti, MasterCard's senior vice president for Global PayPass. This is up from the 28 million cards and 109,000 merchants reported a quarter earlier. But the company won't divulge how many cards have been issued in any specific country, nor how many contactless transactions have been performed.

Others are making guesses though. George Peabody, director of emerging technologies for Mercator Advisory Group, said that 10% of contactless cards have been used to make contactless payments. Peabody made the comments at CTST earlier this year.
In order for contactless payments to take off, the card issuers and networks will have to offer merchants incentives to deploy contactless payment terminals, the Javelin report theorizes.
If industry-wide cooperation occurs, Javelin predicts that 57 million consumers will be using chip-embedded credit cards to make contactless payments by 2013, which is more than double the 24.8 million this year.
Bruce Cundiff, payments research director at Javelin, says contactless payments are embroiled in an "economic battlefield." Merchants don't see the point in upgrading their point-of-sale terminals when they might not see any additional revenue.
"We've reached an impasse in terms of merchant locations and even those announcing, like Best Buy, are subsidized by one or two of the large card networks," Cundiff says. "More importantly, how are you going to make the case to millions of merchant locations that will affect their POS terminals when you don't have millions of cardholders coming in?"
For contactless to take off, the focus needs to remain on setting up the infrastructure to accept contactless payments, he suggests. The Javelin report added a caveat to its predication that there will be 57 million contactless cards in use by 2013, noting that the total "could slip substantially – to a comparatively stagnant 34 million" if more isn't done to build up a contactless infrastructure.
Others are far less pessimistic
Vanderhoof calls the Javelin study "pretty pessimistic. We keep hearing reports from the card manufacturers that orders are up and banks saying that they are continuing their rollouts and are reissuing expired cards, and that the merchant numbers have doubled in the last year."
The technology also has a positive impact on the retailers who accept it, Conforti says. While she won't disclose the number of payments, she says that merchants have received a sales lift when they introduce contactless. "What we're seeing is an increase in spending from 28% to 40% at merchants," she says.
The sales increase is due to lines moving quicker, Conforti says. "If the line isn't moving, customers will leave," she adds. "That's a missed revenue opportunity. A reduction in transaction time, which contactless offers, translates into more revenue and increased sales."
But retailers might not want this information out there. "The merchants don't want to go on record talking about it," Vanderhoof says. "If they tell the world that everyone loves contactless, they're only encouraging competitors to do a 'me too.' If it was really bad, they'd probably be telling everyone how bad it is."
Cundiff says that in order for merchants to get on the contactless bandwagon they need to know that they will see some return on their investment. "A lot of merchants look at the card industry and see a payment mechanism where there's a lot of loyalty between cardholder and the card," Cundiff says. "The card networks need to prove to merchants that it's about a relationship they can enhance with their own customers."
MasterCard's consumers have been positive. Conforti points to surveys that show nearly half would use a contactless card if their bank offered it. "Our customers love it. We've done consumer benchmark studies for 2006 and 2007 among those who have received a contactless card and what we see is that 90% were satisfied, 87% say it exceeds expectations and 96% will continue to use the card."
Vanderhoof says awareness of contactless technology is up. "In a survey last year (2007), some 25% were aware of contactless payments. When we did the survey in 2006, we only got 15%, so the awareness has grown rapidly in the last two years," he says.
Another report the Smart Card Alliance did with Javelin also showed that consumers were indeed using their contactless payment cards, Vanderhoof says. "More than half of the cardholders (57%) have used their contactless credit card or debit card at least once," he says. "So if you use 35 million as your card base, then that equals about 20 million people. If that were 20 million people using anything in any other country it would be a huge adoption. But in the U.S., because there's so many cards out there, it will take awhile before percentages become significant."
More than just a placeholder for mobile payments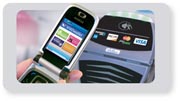 Contactless infrastructure can also be used to process payments made via NFC, which some consider the end game. "Tap-and-go contactless payments will pave the way for the day when cell phones and other devices will become the consumer's electronic wallet, packed with all their credit cards, merchant cards, coupon offers, and more," Cundiff says.
But, as the Javelin report points out, that day will be delayed until the players – card networks, financial institutions, mobile carriers, merchants, and handset manufacturers – treat the field as a symbiotic ecosystem, he says. "I think (NFC is) an opportunity for everyone in that ecosystem, but it's also something where you can't snap your fingers and it happens."
NFC has potential, but Conforti doesn't want to jump the gun. "I don't think contactless is a placeholder for NFC," she says. "It's all about consumer choice. Mobile will be an important device for payment because everyone has a phone and consumers do like using mobile phones for payments. But mobile is a different discussion."
Vanderhoof would rather focus on the now. "(I don't believe) contactless is just an interim step and mobile payment is the next big thing," he says. "Don't get me wrong, I am bullish on mobile, but I am more interested in looking at the present payments market and what consumers have to choose from today … contactless card adoption is very healthy and still growing strong."
Mobile payments will also have obstacles to overcome. "The mobile phone is offering a lot of attractive capabilities to the payment space because it can do so many more things, (but) we have a huge percentage of the population that wants to separate their mobile devices from cash," says Vanderhoof. "While it will appeal to a segment, cards have a long life ahead of them. (Many) consumers will be more comfortable with what they carry in their wallet or purse than what they have attached to their hips."
The future for contactless payments?
As to the future of contactless technology, it seems many believe that there is no turning back. Smart Card producer Oberthur, citing strong progress in the contactless card markets, went so far as to name 2008 "the year of the smart card."
"We are beyond the point of no return and little by little institutions will grow the portfolio that uses contactless," says Martin Ferenczi, CEO at Oberthur Technologies of America.
It's a new technology and it takes time to adapt, adds Ferenczi. "It took five years for Apple to sell 100 million iPods. Today, the market is 35 million contactless cards and we're three years down the road. We are still in the early days."