Hooters adds biometrics to prevent loss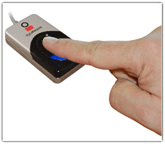 Hooters Restaurants has implemented biometric fingerprint readers as a means to prevent loss in transaction and payroll fraud at the restaurant level.
Hooters contracted with DigitalPersona Inc. to install the provider's U.are.U fingerprint readers with ITWercs Point-of-Sale software in restaurant units. Hooters employees use the readers to authenticate transactions and clock in and out for shifts.
The fingerprint readers replace a PIN and swipe card system that proved difficult to manage and track unauthorized voids. The new readers will tie a specific individual to each transaction and track additional manager oversight. The system also enables greater accuracy in the company's time-and-attendance system.
Hooters trialled the readers at its Texas locations, eventually expanding to other sites. Nearly 4,000 employees currently use the new system.