'Killer combination' not 'killer application' defines RFID and contactless in '05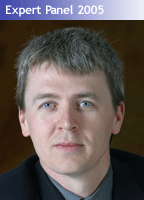 A panel of ID industry experts provided predictions for 2005. One of these glimpses into the future will appear here each day during December.
by Pierre A. Roberge, Vice-President, Research & Development, Dexit Inc.
RFID has been deployed, used and accepted by consumers globally for retail transactions for more than eight years with applications such as Exxon Mobil Speedpass (loyalty & payment service in the United States); Octopus (a contactless transit card in Hong Kong); and Dexit (with its prepaid contactless payment service) embraced by a wide variety of merchants and consumers.
Currently, there are a number of other applications being tested that use RFID as an everyday consumer convenience tool. One of the most visible efforts is Near Field Communication (NFC) and Reader to Reader (R2R).
The opportunity associated with putting RFID technology into a consumer electronics device shares the same great potential, as well as the risk of pitfalls, as Mobile Commerce. At the time it was introduced, proponents of mobile commerce promised to transform the mobile phone into a "mobile wallet" that could interact with any electronic wireless service. Further, this technology would allow for the effective delivery of information directly to the consumer's wireless handset anywhere, anytime. For the most part, the NFC or R2R consumer propositions are identical to that which was espoused by proponents of mobile commerce at the beginning of this century, the primary difference being that they
are not constrained to the use of only a wireless handset. Given the similarities and promised appeal between NFC or R2R and mobile commerce, there is a unique opportunity to learn from these experiences and apply these learning's to the current context.
So what can we take from this. It's a given that the contactless attribute of RFID will increasingly become commoditized as "contactless" technologies continue to be introduced as convenience features to the consumer base. More and more organizations now use and embed RFID into their solutions. This can easily be demonstrated from the early adoption of RFID in access control, and now in contactless payment and consumer electronics.
We can also see an interesting paradigm shift happening from the 'killer application' to the 'killer combination'. The added convenience of contactless combined with the power of the smart card to offer multiple applications from a single form factor is convincing a growing number of consumers to use new forms of payment, like contactless pre-pay solutions.
M-commerce, proximity RFID, NFC, R2R and payment applications are destined to converge in the future. In light of this, responsible players in the contactless arena need to very clearly articulate the benefits of their offerings to both consumers and businesses alike.
As evidenced by several early entrants into this space, the ultimate winners will be those applications that are so fundamentally simple and convenient that they will go on to become the lifestyle choice for a broad base of consumers.
About the author:
Pierre Roberge brings significant expertise and real life experience in the field of RFID technology. Additionally, Pierre has a wide array of experience in many forms of electronic methods of payments (e-commerce, m-commerce, mini-payment, micro-payment, etc), services and product launches and in the banking sector.
Pierre is also a co-founder of Dexit, an open and innovative contactless (RFID based) electronic payment system for frequent, low-value payment transactions. Pierre has first hand experience in developing and launching ground-breaking e-commerce, m-commerce applications as well as a patent pending payment solution for the physical world, used today by some of the largest Canadian and International retailers.
---
Visit Dexit on the web at www.dexit.com.
Near Field Communications News and Insight
Explore more developments dealing with the implementation of Near Field Communications, a short-range wireless technology that promises to revolutionize contactless identification, payment, access, and more.
Click to visit NFCNews
.