London equips public transport with wave-and-pay technology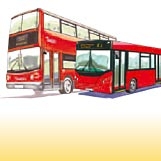 Transport for London (TfL) is conducting a pilot of wave-and-pay technology that would enable passengers to use their contactless-enabled bank cards across the public transport system, according to The Financial Times.
London commuters will be able to start paying some bus fares as soon as this week – including the Underground and Dockland Light Railway – just as soon as transport authorities begin rolling out the contactless payment system.
TfL currently issues millions of Oyster cards to visitors to the capital, and is hoping to reduce this by allowing people to pay directly with their bank cards. The new system will not immediately replace the Oyster card, but is designed to cut the costs of running the capital's dedicated prepaid contactless system.
The project also has the potential to allow passengers the added option to pay using their mobile phones, as contactless technology is continuously being be fitted in the latest smart phones.
Read more here.