London's contactless transit card to be accepted at local merchants
Oyster, Transport for London's popular transit fare payment card, is about ready for a new benefit for its more than two million users. They'll soon be able to use their contactless card to make small purchases–coffee, newspapers, milk–at participating retailers. TfL in July released what it calls its shortlist of seven companies or consortia bidding on what could be a very lucrative contract.
"We are currently in discussion with potential partners with whom we hope to develop e-purse on Oyster," said TfL's Amanda Brooks, media relations. "These discussions include how the e-purse would integrate with Oyster and we will announce plans after a partner has been decided."
Adding e-purse functionality had always been one of the goals for the Oyster card, a program that has been in existence for about two and a half years. "The plan to extend Oyster from travel to small money purchases demonstrates TfL's commitment to provide greater convenience for passengers and generate additional revenue for the transport network," said Ms. Brooks.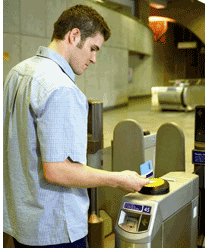 "Oyster already has the largest customer base of all smart cards in the UK," she added, "with more than 2.5 million users. Also, more than three million journeys are made every day using Oyster. Essentially, this takes away one of the biggest hurdles of any contactless smart card payment system as customers already have Oyster in their pockets. It's not a new piece of plastic they have to acquire."
Oyster development began in 1998 under TfL's PRESTIGE (Procurement of Revenue Services Ticketing Information Gates and Electronics) project. London's transport network serves more than 8.5 million passengers with buses, underground lines, light rail and trams. The PRESTIGE project is a 17-year initiative. The contracting consortium is TranSys whose members are Cubic Transportation Systems, Electronic Data Systems (EDS), Fujitsu and W.S. Atkins, said Ms. Brooks.
Exactly how the e-purse or e-money program will be implemented–will it be a stored value card, or linked to a credit card, etc.–hasn't been decided. "A range of technical solutions remains under consideration at this stage," said Ms. Brooks. It will, she added, depend "on the selected partner's proposed customer proposition."
The seven companies/consortia on the short list include:
alphyra (involved in the electronic payments and transactions arena);
Barclays (a UK-based financial services group);
BBVA, Accenture, MTR, and Octopus (a consortium involved with Hong Kong's Octopus card, which also includes e-purse functionality);
EDS and JPMorgan;
a consortium of Nucleus, Dexit (a Canadian company which produces contactless payment tags linked to prepaid accounts), Ericsson, Hutchison 3G, and Euroconex;
PayPal;and
RBS (Royal Bank of Scotland).
According to Ms. Brooks, TfL initially presented plans for e-money to nearly 100 interested companies in April. TfL then narrowed that list down to 20 companies, who then submitted "pre-qualification questionnaires/proposals for TfL's review. Those 20 were reduced to seven, which will now submit full-blown e-money proposals. Next January, is the "proposed timing for the start of development work with the proposed partner" and by the end of next year, the e-money program will be "launched to consumers and merchants in London," she added.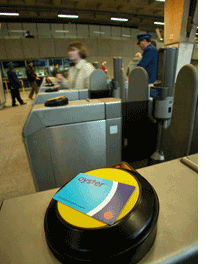 While it might have been simpler to go with a company already involved in Oyster (such as EDS), Ms. Brooks said that TfL, "as a public body…has an obligation to give all participants in the smart card market the opportunity to propose innovative ideas as to how the current scheme might be extended."
She said the new e-purse functionality will not cost the card holder anything. As to the initial deployment, that depends "on the proposed partner's plans."
What about the types of retailers who will be accepting the new e-money? Ms. Brooks said, "it is up to the individual vendors whether or not they will be involved. However, already many major High Street retailers have expressed an interest in the e-purse, including major coffee and take away retailers." Other possibilities include parking machines, news agents, fast food restaurants, and supermarkets.
London retailers are anxious to begin accepting the e-purse for one major reason: "There is a great deal of convenience for vendors," said Ms. Brooks. "Oyster takes only one-fifth of a second to transact, so payments are much quicker. Contactless payments also mean reduced cash handling costs and greater security."