Long Island Rail Road tests NFC posters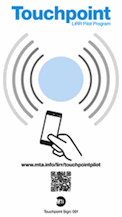 New York's Metro Transit Authority (MTA) has partnered with Nokia to pilot NFC-enabled posters in select Long Island Rail Road (LIRR) stations.
According to Byte, the "Touchpoint" posters can be tapped with an NFC phone to automatically launch the LIRR help page on the phone's browser. Eventually the pilot will be expanded to allow customers to use their phones to pay for fares.
The pilot kicked off in June with a test phase involving 100 selected Port Washington Branch customers simply making "taps" on the touch points, with no fare payments transacted, according to MTA. Other stations receiving the posters include Great Neck, Bayside and Broadway.