New RFID partnership is going downhill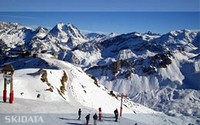 Two companies bringing technology to the ski slope have joined forces. Resort Technology Partners, a provider of software and web services for the resort and recreation industries, and SKIDATA AG, a provider of RFID-enabled access control systems, have announced a partnership agreement. Under the terms of the agreement, the two companies will develop a joint solution for companies in the ski resort, amusement park, attraction and stadium industries.
Resort Technology Partners specializes in technology solutions for resort and recreation businesses which integrates its point-of-sale software with e-commerce, web design and distribution services. SKIDATA designs solutions focusing on ski tags with embedded RFID, which enable both access to ski slopes and additional products and services to improve operator efficiency while enhancing the guest experience. The companies' joint product will utilize SKIDATA's access control technology and RTP's enterprise ticketing and point-of-sale system, RTP|ONE.
The new product will debut at Aspen Skiing Company's four mountain complex in Colorado in time for the 2008-2009 skiing season, and is expected to create a completely hands-free experience for guests.
"We are excited to have the technology that will enhance our guests' experience by providing convenient, automated access to our mountains," explained Matt Jones, CFO, Aspen Skiing Company. "Our guests will be able to enjoy a seamless and efficient experience throughout our resort, so they may spend more time enjoying the skiing and snowboarding."