NFC gets lab tested as users trial phone payments, smart posters, and ticketing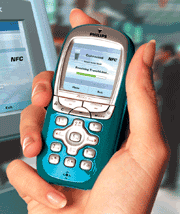 By Andy Williams, Contributing Editor
Even with a commercial rollout a short time ago for NFC-enabled phones, Philips continues to tweak the new technology. A study the company conducted late last year raised a couple of issues which will probably find their way into newer NFC iterations, although one of the findings had to do with the readers, not near field communication.
Using a controlled environment, Philips and Visa recently conducted a controlled study to determine how novice NFC users would take to paying for products with their cell phones. But the study went beyond payment, testing the smart poster concept as well as applying an radio frequency tag to a DVD box to allow potential purchasers to first see a movie trailer.
Philips recently implemented what it calls the first commercial rollout of NFC-enabled phones in Germany, and the company has several pilots are underway in other regions as well. The U.S., says a Philips spokesman, may be next to experience NFC commercialization.
Besides the "coolness" factor, participants in the study found the phone easy to use, said Francesco Prato, business development manager for NFC with Philips Semiconductors.
He was quick to point out that this Atlanta study was different from the pilot Philips was also conducting at the Atlanta arena, allowing sports fans with NFC-enabled phones to purchase food and beverages from the concession stands.
"We wanted to test the usability of specific technology in different scenarios," Mr. Prato said of the controlled study. "It was very important to see how the consumers were able to interact for the first time with NFC and to see their major issues or concerns, if they were very quick to learn how to use it. We wanted to see specific issues in different scenarios and if consumers were going to change their behavior."
The study was conducted at a Philips test facility and consisted of 20 people – roughly half male and half female covering different age ranges.
"They were users of credit and debit, frequent cell phone users," said Mr. Prato. About 50% of the study group were "early adopters," others were fairly new to cell phones. But they all shared a common link. "No one knew anything about NFC," he points out. "It was very interesting to see their first reactions … people were very surprised to see how they could interact with a poster; for example," said Mr. Prato. "They were very surprised to see that by touching something without any interaction, they could use NFC (as a payment vehicle)."

Testing a series of compelling NFC applications
The study's three two-hour scenarios included a "coffee corner," a movie trailer and a smart poster. With the coffee corner scenario, a user could order coffee and a Wi-Fi Internet connection. The access code for the login was transferred from the phone to the user's laptop, said Mr. Prato.
The movie trailer involved an RFID label on a DVD box and, using the NFC-enabled phone, the user was able to watch a movie trailer that, ostensibly, would help him make a purchase decision. And if the person had a NFC-compatible TV, the trailer could be played there as well, said Mr. Prato.
With the smart poster, a user could buy tickets to a concert, download ring tones, and even download games. "For example, the consumer would be able to buy two tickets and sell one to a friend via NFC. You just touch with your phone and you could transfer the tickets and you could also get money back from the phone," he said. "We were interested to see how NFC could enable person-to-person interaction."
What did they learn?
He said that at the beginning of the study, "users first wanted to understand how to interact, but the learning curve was very fast and soon they were very comfortable" using the NFC-enabled phone. "At the end of each scenario, we recorded their questions and answers and their facial expressions."
Some of the study's findings were obvious – a focus on speed and convenience – elements that have been trumpeted by the contactless world for several years. But it was also discovered that perhaps today's computer-literate world wanted something even more automatic and simple. For example, the study noted that receiving transactions "should be even more automated. For example, "participants liked the simplicity of transactions that were initiated just by holding the mobile phone to an NFC-enabled reader. However, for sending applications, such as selling a ticket to a friend, users may prefer to initiate the transaction with a command."
Added Mr. Prato: "They liked the fact there was less interaction, that you don't need to select the application."
Even after showing the users how to handle and manipulate the transaction, they still had trouble figuring out where to place the phone over the reader. "One of the results was a need for a clear and consistent marker," said Mr. Prato. "The consumer would look where he should touch or not touch so there's a real need of showing where to touch."
In other words, as the study pointed out, "Users did not want to guess where and how to orient their mobile phones to complete a transaction."
The study involved phones, "with vibration; so they knew the transaction went thru," he said. "You didn't need to watch the display. Another possibility is providing a text message confirmation."
What happens with a lost NFC-enabled phone? "That's one of the questions I get asked often," said Mr. Prato. "If you lose your credit card, anyone can use that card … the damage could be high. (But) having your card in the phone, no one can see the number."
Mr. Prato thinks that NFC, because of its cell phone compatibility, could help "drive contactless technology in the U.S. There are more than 30 million contactless cards in the U.S. now which is one of the reasons we did this here in the U.S. with Visa."
In Europe, for example, the "first application taking off using NFC phones is (transit) ticketing. In Europe, they're fully aware of contactless for mass transportation so it is easy to move from card to phone…very easy," he added.
Philips also has tests underway in Italy "that we'll announce this summer," he suggests. "I think NFC will take off by the end of the year and we expect to go commercial in the U.S. by the end of the year."
Near Field Communications News and Insight
Explore more developments dealing with the implementation of Near Field Communications, a short-range wireless technology that promises to revolutionize contactless identification, payment, access, and more.
Click to visit NFCNews
.