Will NFC slow down the checkout line?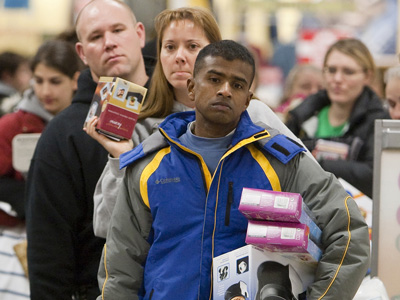 David Dorf, of the Insight-Driven Retail Blog, argues that the main advantage of NFC technology is its ability to be used for multiple purposes in the same transaction, i.e. couponing, loyalty and payment. But if using these services takes longer than it would to flip through your "real" wallet, what's the point?
In a test of his own, Dorf found that reading coupons and loyalty cards on an NFC phone at the point of sale took roughly two seconds a pop – enough to change the motion from a "tap" to a "tap and hold." Dorf acknowledges that this might not seem like much, but if you use a loyalty card, a coupon and pay with your phone in one transaction, those seconds add up, and quicker checkout lines means happier customers and more revenue for the retailer.
To help speed things up, Dorf and others at the Insight-Driven Retailing Blog, combined the data from all three files (payment, coupon, loyalty) into a single one, using separators between the data types. According to Dorf, the project worked, but combining files is not feasible in the real world, given that the data is owned by three different organizations.
As a possible solution, Dorf suggests storing a read-only unique identified on the phone that a third party can link to a loyalty number, list of coupons, and payment choices on some far away server. That way, all the work would go to the back-end servers, simplifying the role of NFC.
Read more here.