SEPTA settles on a contract for open fare system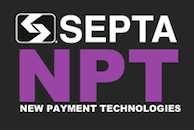 The Southeaster Pennsylvania Transportation Authority (SEPTA) has voted to award a contract of up to $129.5 million to ACS Transport Solutions Group for the installation of a new contactless open fare system.
According to SEPTA, the new system will replace current tokens, paper tickets and magnetic stripe passes with bank cards, smart ID's, NFC-enabled phones and pre-paid contactless SEPTA cards. Customers will be able to pay fares with a simple tap the contactless device of their choice upon entry to vehicles and stations.
Dubbed "New Payment Technologies" (NPT), the project will be divided into three phases and is expected to be complete within three years.
The first phase will focus on design and testing, with implementation following in the second and third phases. NPT will be rolled out first on buses and trolleys, followed by the Market-Frankford and Broad Street lines, and then the Regional Rail system.
SEPTA says it will take a gradual approach to implementing the new system, retaining familiar transit fare elements while adding new technology. Additionally, the authority plans to conduct a region-wide education and awareness program to explain the new system and demonstrate how it will work for riders.
Check out SEPTA's NPT page for more details.