Sony promotes NFC in new smart phone ads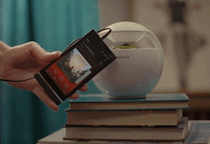 Sony Mobile is launching a new ad campaign highlighting the NFC capabilities of Xperia smart phones.
The campaign, which will be deployed across TV, print, digital, out-of-home and retail, will begin in the UK before heading to other markets over the coming months. At the center of the campaign are two TV ads, the first of which showcases how music playing on an Xperia smart phone can be transferred instantly to a speaker via NFC. According to Sony, this ad will air in the UK starting September 7th.
The second ad, which will air in early October, explains the process of capturing and sharing images by touching NFC-enabled smart phones together.