Sony unveils NFC-enabled Xperia S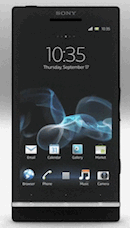 Sony has revealed its new NFC-enabled Xperia S smart phone at the Consumer Electronics Show in Las Vegas, according to ITProPortal.
The inaugural handset in Sony's new line of NXT smart phones (as in "NeXT" generation), the Xperia S features a 1.5GHz dual-core processor, a 12MP camera, HDMI connection, 32GB of internal flash storage space and a 4.3-inch 720 x 1280 pixel display in addition to NFC.
According to ITProPortal, the handset will run on the 2.3.7 version of Android Gingerbread OS, but users will be able to upgrade to Android 4.0 "Ice Cream Sandwich" during the second quarter of 2012.
More Xperia models are slated for launch this spring, including Xperia ion, Xperia NX and Xperia acro HD.
Read more here.