Sony unveils Xperia Sola NFC handset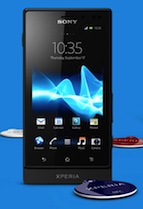 Sony has revealed its latest Xperia smart phone, the NFC-enabled Xperia Sola.
Slated for global launch in the second quarter of 2012, the Android 4.0-powered Sola comes equipped with Xperia SmartTags, enabling consumers to change their smartphone's settings and applications with a simple tap against an NFC token.
The Xperia Sola also debuts Sony's brand new "floating touch" technology, which enables users to manipulate webpages by holding their finger above the screen and moving it as if it were a cursor. Once the desired link is found it can be highlighted and tapped to load.
The NFC-enabled Xperia Sola comes with two NFC Xperia SmartTags out of the box, which can be personalized with up to 10 commands, such as turning on Wi-Fi, launching certain webpages or apps, or setting an alarm.
The Sola also supports NFC pairing, allowing users to connect with other NFC smart phones, applications and services with a simple tap.
Check out the video below to see floating touch and other features in action.