'Tap and go' contactless payments on a roll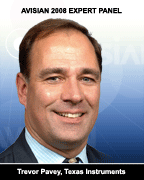 Part of the AVISIAN Publishing Expert Panel series to be published throughout December 2006
Trevor Pavey, Manager of Contactless Payments, Texas Instruments
The era of 'tap and go' payments fueled by contactless technology has arrived. In the past year, issuers have released more than 14 million contactless credit cards in the U.S. under the American Express, MasterCard, and Visa brands. Driven by the revenue potential and greater customer convenience of contactless payment, retailers, including 7-Eleven, CVS and McDonald's, announced nationwide roll-outs.
In 2006, the market trials proved the value of the technology. With research that demonstrated faster transactions, shorter lines and increased spending, issuers put even more 'tap and go' payment devices in their customers' hands and equipped close to 200,000 POS locations.
Contactless technology has also had a liberating effect on payment form factors. While traditional plastic cards dominate in the non-contactless world, increasingly companies such as MasterCard, American Express and Citibank are experimenting with alternative forms like key fobs. Advances in performance and the increasingly smaller size of radio frequency chips and antennas are making these new forms possible, while ensuring the optimum consumer experience at the checkout.
What does the future hold for contactless payment? Our top three predictions for 2007 are:
Increase in Retailer Roll-outs: In the coming year, we expect more retailers to follow the lead of early adopters. POS locations will rise more than 33% from 2006, reaching 300,000. New applications will proliferate for micropayment transactions under $25 where speed and convenience are crucial, such as in taxicabs and vending machines. We may even see more retailers, like Jack-in-The-Box, that opt to forego trials and move straight to chain-wide Roll-outs.
Cool New Form Factors: The inherent coolness factor of new 'tap and go' forms will help drive consumer acceptance. Among the potential new form factors are 2-D fobs resembling grocery store loyalty cards, and 3-D key fobs which can be fashioned into just about any shape imaginable, such as a football helmet or medallion in the shape of a company logo. Mobile phones, watches and portable music players enabled with contactless payment are also on the horizon.
Greater Consumer Acceptance: Contactless payment will gain more traction with consumers. To win their confidence, card issuers must communicate that this new technology does, in fact, offer a secure payment transaction, and that the liability policies in place for traditional credit and debit accounts also apply to contactless transactions. Issuers will also continue to tout the speed and convenience value propositions of contactless in their marketing to increase consumer perception about the technology's benefits.
Retail payment is being transformed with the maturation of contactless technology. 'Tap and go' payment convenience for everyday purchases has reached major retail chains, attracting new retailers and consumers alike. As customers continue to learn about this new form of payment, we'll see the continued growth of secure contactless payment, available in a number of new locations and in new types of devices.