Virgin Mobile launches first NFC phone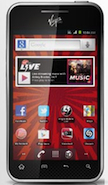 Virgin Mobile has set a May 15 launch date for the LG Optimus Elite, the first device in the operator's lineup to feature NFC and Google Wallet.
Debuted by Sprint last month, the Optimus Elite runs on Android 2.3 Gingerbread OS and features a 3.5-inch HVGA touchscreen, 800 MHz processor and 5MP rear-facing camera.
With the launch of the Optimus Elite, Virgin Mobile joins Sprint as the only two carriers to offer the Google Wallet NFC payments and loyalty service so far.
The handset, now available for pre-order through Virgin's website, is priced at $149.99 with unlimited data and messaging plans starting at $35/month.