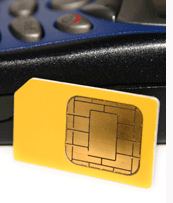 Gemalto launched the UpTeq NFC SIM vault to offer mobile operators higher security and bigger return on investment from NFC rollouts. The new SIM has attained security certifications from independent authorities to the highest levels. This enables mobile operators to install and manage new NFC services even after issuing it to end users. UpTeq NFC is immediately available. 

UpTeq NFC advances the conventional SIM card while maintaining the standard form factors and functional backward compatibility. Designed as a high-end security device to handle the processing, storage and verification of sensitive data, it is fitted with expanded memory capacity for hosting a range of NFC services including payment, transport and loyalty programs.
It can also generate legally binding digital signatures and handle e-Health and e-Government services. 
UpTeq NFC embeds security software certified with formal assurances from the EAL7 level, the highest Common Criteria level – and runs on an EAL4+ banking card quality tamper-resistant processor.
UpTeq NFC has also obtained compliance with globally accepted payment schemes including MasterCard and EMVCo. These certified post-issuance and memory management mechanisms comply with the Global Platform and AFSCM standards and in particular each application is completely isolated from one another, so that security for multiple service providers and privacy for individual users are always ensured. 


UpTeq NFC aims to reduce complexity and improves the ROI for mobile operators deploying NFC programs. Mobile users will be able to enjoy ease and convenience of downloading, activating, using and removing new services on their phone in an entirely protected environment.
For mobile operators, the secure and certified post-issuance features of UpTeq NFC enables them to mass deploy NFC services without the need to pre-qualify each and every service and application.
For service providers, UpTeq NFC allows them to manage their own applications lifecycles – securely updating features and benefits at their pace, as if in a shared vault. In this way, mobile operators can grow their portfolio of NFC services through the addition of new partners over time.